Cramer: Could This Company Generate Monster Gains?
Posted on January 31, 2013 at 18:26 PM EST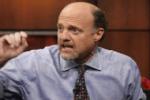 After talking with the CEO, Jim Cramer thought this stock could be pretty tasty. And he didn't say that after enjoying one of the company's mouth-watering treats or a cup of their delicious coffee.