Chris Ciovacco: Never A Dull Moment. You can say a lot of things about working in the money management business, but you cannot include the words dull or boring in your commentary. The markets finally got past the overly anticipated September Fed meeting, which allowed the political posturing in Washington to move to the forefront. From the Washington Post: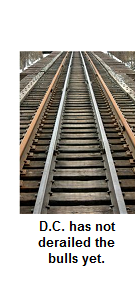 On Friday, the House passed a measure that would keep the government running through mid-December. But it came with what Democrats consider a poison pill: It defunds President Obama's signature health-care law, known as Obamacare. There is no way whatsoever — think pigs flying — that the Senate will agree to the House plan. Senate Majority Leader Harry M. Reid (D-Nev.) said the House bill was "dead," then for emphasis added: "Dead." That sets up eight days of brinkmanship between the Republican House and the Democratic Senate and White House, leading to midnight Sept. 30, when much of the government will shut down if there's no deal. Leaders on Capitol Hill expect the face-off to go right up to the deadline, if not beyond. Below is a day-by-day look at how it's all likely to play out — with the caveat that events can change quickly.
Aggregate Interpretation Still Bullish
Traders and money managers use charts to monitor the aggregate opinion of all market participants, since it determines the value of assets. While the stocks have shown some weakness in recent days, the market's pricing mechanism still favors better economic times ahead.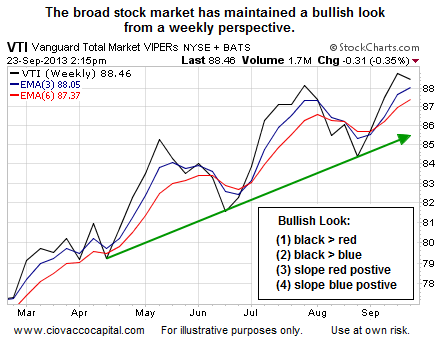 Handicapping Markets
This week's video provides a summary of our market model's readings at the one minute mark. We also draw some helpful analogies between handicapping football games and stock market forecasting.
After you click play, use the button in the lower-right corner of the video player to view in full-screen mode. Hit Esc to exit full-screen mode. 

Anecdotal Crack In Housing Market?
There is a little voice in the back of our minds that says is it possible to have a sustainable run in housing so soon after such a massive real estate bubble? Maybe some of the large players in the market have the same little voice in their head.
(...)Click here to continue reading the original ETFDailyNews.com article: Dow Jones Industrial Average: Will The D.C. Standoff Derail The Bulls?
You are viewing an abbreviated republication of ETF Daily News content. You can find full ETF Daily News articles on (www.etfdailynews.com)
Related posts: