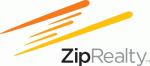 EMERYVILLE, Calif., April 15, 2013 /PRNewswire/ -- ZipRealty, Inc. (http://www.ziprealty.com) (NASDAQ: ZIPR), the leading online residential real estate brokerage and technology provider, has released its first Housing Trends Report, according to CEO and President Lanny Baker.
The twice-monthly report provides a comprehensive analysis of 24 major real estate markets served by ZipRealty. As the firm continues to expand in other areas through its Powered by Zip network, additional metropolitan areas will be added to the report, says Mr. Baker. Fresh, new data will be added to the report in the middle and at the end of each month.
According to the debut edition of the ZipRealty Housing Trends Report, median home prices in the cities examined increased 14.6% to $242,519 on a year-over-year basis, with the highest gains in San Francisco, where home prices shot up 38% as of March 15, 2013. Real estate prices in both Las Vegas and Phoenix jumped 31% during the same period.
Total housing inventory in the 24 metropolitan areas declined 34% as of March 15, 2013, as did the level of distressed home sales. The report shows 35% of the homes sold in the 2012 period were either foreclosures, short sales or REOs, compared to only 23% of the homes in 2013, a decline of 12 percentage points in the prevalence of distressed property sales.
ZipRealty's Housing Trends Report analyzes the following real estate metrics for each market covered by ZipRealty:
1)     Median Sales Price
2)     Sold-to-List Price Ratio
3)     Total Home for Sale Inventory
4)     New Listings
5)     Pending Sales
6)     Distressed Sales, Including Foreclosures and REOs
7)     Median Days on Market
8)     Percentage of Homes Sold in Seven Days or Less
About ZipRealty, Inc.
ZipRealty is a leading national real estate brokerage and provider of proprietary technology and comprehensive online marketing tools for the residential real estate brokerage industry. For home buyers and sellers who increasingly want control, choice and a seamless, customized service, ZipRealty offers Internet-enabled, state-of-the-art technology and complete access to accurate, timely information via their website and mobile applications, which real estate professionals can combine with their own local knowledge and personal expertise to offer an exceptional start-to-finish client experience. For real estate professionals who seek more productive ways to conduct business, ZipRealty provides technology and online marketing tools to enhance their online sales channel, including lead generation, conversion and service of their clients. ZipRealty's technology and online marketing products serve its full-service, owned-and-operated residential real estate brokerage business in 19 markets nationwide, as well as its Powered by Zip network of leading third-party local brokerages in 15 markets.
Media Contact: Stacey Corso
510.735.2667
scorso@ziprealty.com
SOURCE ZipRealty, Inc.