The Gold Report: Your presentation "How to Navigate Junior Mining Right Now" uses the image of a giant intake hole in a lake to illustrate the condition of high-risk explorers. However, your price chart of the TSX Venture Exchange's performance shows the exchange to be in better shape than it was in 2000 or 2009. Why is everyone scrambling now?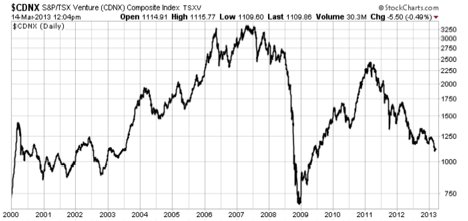 Matt Badiali: The price chart does not tell the whole story.
Using 2004 as a base, there were 995 mining companies listed on the TSX Venture Exchange (TSX.V) … [visit site to read more]
Similar posts:
Five Mining Companies that Meet Jamie Mackie's Success Criteria

The Gold Report: Investing in mining equities is a cyclical...

Sprott's Michael Kosowan on Surviving Death by Paper Cut in Today's Mining Equity Market

The Gold Report: Are you mostly involved in mining investments,...

Bob Moriarty's Stock Tales from the Crypt

The Gold Report: Appropriately for this time of year—Halloween and...