While most payday loan companies struggle to market in the social media arena, the new Aussie online short-term lender "Loan Ranger Cash Loans" is already winning a lot of attention in the social media websites with their unique strategy.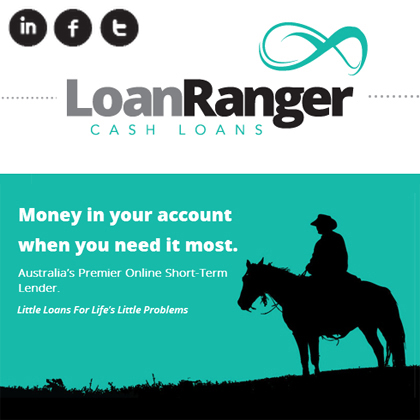 [Press Release Distribution]
A new Aussie online fast Cash Loans provider, Loan Ranger, opened its virtual doors last week. The company is targeting people who utilise the "tough-nut-to-crack" social media sites, like Facebook and Twitter. Loan Ranger Cash Loans sees this population as an untapped market and is using a unique angle to get their message out to these potential cash loan customers.
"We've decided to tailor our services to social media accounts, such as the Loan Ranger Facebook page. By focusing on providing fun and quirky, yet informative posts about our brand, product and company culture, we won't need to continually push our services. In addition, our business model is to provide all fees, the process and the structure of our products up front. If our customers like what they see, then they'll apply – no hard sell needed," said David Brennan, Managing Director.
"Loan Ranger Cash Loans" has a dedicated social media account manager who handles posts, replies and actively seeks out social media avenues to expose the brand to as wide an audience as possible. The company's ultimate goal is to provide exactly what customer wants, in the fastest times possible, with the best customer service available.
Loan Ranger wants to be perceived as just another dependable "mate" that a person can go to when they find themselves short of cash. "Your mate doesn't make you wait around for a decision, so why should we?" This philosophy continues throughout their website. Customers are notified as soon as the funds are deposited into their account, usually with 24 hours.
Due to the stigma attached to payday loans, gaining a strong social media following in the online payday loan market is extremely hard. Customers are hesitant to Like, Follow, Re-tweet or Share anything that links them to short term loan providers. Loan Ranger Cash Loans unique angle of approaching their targeted audience as their new short-term lender and "mate" appears to be working big time. In their first week of opening, their Facebook page already had over 330 followers.
Loan Ranger Cash Loans is fully committed to providing their customers with quality, transparent and helpful services that can be depended upon whenever their customers need a little financial help.
For more information about us, please visit
http://www.loanrangercash.com.au
Contact Info:
Name: Mick Connor
Email: info@webitrixmedia.com
Address:
Phone:
Organization: Webitrix Media
Source: http://marketersmedia.com/loan-ranger-cash-loans-gallops-into-social-media-arena/7941