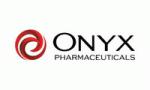 SOUTH SAN FRANCISCO, CA -- (Marketwire) -- 04/01/13 -- Onyx Pharmaceuticals, Inc. (NASDAQ: ONXX) today highlighted the presentation of three studies, among several, from its proteasome inhibitor franchise at the 14th International Myeloma Workshop (IMW), April 3-7, 2013, in Kyoto, Japan. New data will be presented on carfilzomib in high-risk-smoldering myeloma and on oprozomib in hematologic malignances.
"The results being presented at the IMW continue to build our clinical understanding of carfilzomib, a second-generation proteasome inhibitor, and oprozomib, an oral proteasome inhibitor in early development," said Pablo Cagnoni, M.D., Executive Vice President, Global Research & Development and Technical Operations, Onyx Pharmaceuticals. "Onyx is committed to the continued development of both these proteasome inhibitors in multiple myeloma, as well as other hematologic malignancies and to bringing these therapies to patients globally as quickly as possible."
Carfilzomib
Clinical and Correlative (Phase II) Pilot Study - Carfilzomib (CFZ), Lenalidomide (LEN), and Dexamethasone (Dex) in High Risk Smoldering Multiple Myeloma ("Early Myeloma")
Dr. Ola Landgren, National Cancer Institute (NCI)
Saturday, April 6, 8:00-8:12 a.m. JST (Friday, April 5, 7:00-7:12 p.m. ET)
Plenary Session 1
Treatment (tx) with CRd -- carfilzomib (CFZ), lenalidomide (LEN) and low-dose dexamethasone (dex) -- for elderly patients (pts) with newly diagnosed multiple myeloma (NDMM) enrolled in a phase (Ph) 1/2 study
Dr. Andrzej Jakubowiak, University of Chicago Medical Center
Saturday, April 6, 8:48-9:00 a.m. JST (Friday, April 5, 7:48-8:00 p.m. ET)
Plenary Session 1
Oprozomib
Oprozomib Treatment in Patients With Hematologic Malignancies: Updated Results From a Phase 1b/2 Trial
Dr. Jonathan Kaufman, Winship Cancer Institute
Thursday, April 4, 5:00-9:00 p.m., Friday-Saturday, April 5-6 10:00 a.m.-4:00 p.m. JST (Thursday, April 4 4:00-8:00 a.m. ET, Thursday-Friday, April 4-5 9:00 p.m.-3:00 a.m. ET)
Poster # P-225
Abstract # 427
Important Indication and Safety Information Regarding Kyprolis® (carfilzomib) for Injection
On July 20, 2012, the U.S. Food and Drug Administration (FDA) granted accelerated approval of Kyprolis® (carfilzomib) for Injection for the treatment of patients with multiple myeloma who have received at least two prior therapies including bortezomib and an immunomodulatory agent (IMiD), and have demonstrated disease progression on or within 60 days of completion of the last therapy. Approval was based on response rate. Clinical benefit, such as improvement in survival or symptoms, has not been verified.
Safety data have been evaluated in 526 patients with relapsed and/or refractory multiple myeloma who received single-agent Kyprolis. There were 37 deaths in the phase 2 studies, or 7% of patients. The most common causes of death, other than disease progression, were cardiac (5 patients), end-organ failure (4 patients), and infection (4 patients). Important warnings and precautions include cardiac arrest, congestive heart failure, myocardial ischemia; pulmonary hypertension, pulmonary complications, infusion reactions, tumor lysis syndrome, thrombocytopenia, hepatic toxicity and embryo-fetal toxicity.
Death due to cardiac arrest has occurred within a day of Kyprolis administration. Patients with New York Heart Association Class III and IV heart failure, myocardial infarction in the preceding 6 months, and conduction abnormalities uncontrolled by medications were not eligible for the clinical trials. These patients may be at greater risk for cardiac complications.
Pulmonary arterial hypertension (PAH) was reported in 2% of patients treated with Kyprolis and was Grade 3 or greater in less than 1% of patients. Dyspnea was reported in 35% of patients enrolled in clinical trials. Grade 3 dyspnea occurred in 5%; no Grade 4 events, and 1 death (Grade 5) was reported.
Infusion reactions, characterized by a spectrum of systemic symptoms including fever, chills, arthralgia, myalgia, facial flushing, facial edema, vomiting, weakness, shortness of breath, hypotension, syncope, chest tightness, or angina can occur immediately following or up to 24 hours after administration of Kyprolis. Administration of dexamethasone prior to Kyprolis reduces the incidence and severity of reactions. Tumor lysis syndrome (TLS) occurred following Kyprolis administration in < 1% of patients. Patients with multiple myeloma and a high tumor burden should be considered to be at greater risk for TLS.
Thrombocytopenia following Kyprolis administration resulted in a dose reduction in 1% of patients and discontinuation of treatment with Kyprolis in < 1% of patients.
Cases of hepatic failure, including fatal cases, have been reported (< 1%). Kyprolis can cause elevations of serum transaminases and bilirubin.
There are no adequate and well-controlled studies in pregnant women using Kyprolis. Females of reproductive potential should be advised to avoid becoming pregnant while being treated with Kyprolis. The most common serious adverse reactions were pneumonia, acute renal failure, pyrexia, and congestive heart failure. The most common adverse reactions (incidence of 30% or greater) observed in clinical trials of patients with multiple myeloma were fatigue, anemia, nausea, thrombocytopenia, dyspnea, diarrhea, and pyrexia. Serious adverse reactions were reported in 45% of patients.
Full prescribing information is available at http://www.onyx.com.
About Multiple Myeloma
Multiple myeloma is the second most common hematologic cancer and results from an abnormality of plasma cells, usually in the bone marrow. In the United States, more than 50,000 people are living with multiple myeloma and approximately 20,000 new cases are diagnosed annually.(1) Worldwide, more than 220,000 people are living with multiple myeloma and approximately 100,000 new cases are diagnosed annually.(2)
About Onyx Pharmaceuticals, Inc.
Based in South San Francisco, California, Onyx Pharmaceuticals, Inc. is a global biopharmaceutical company engaged in the development and commercialization of innovative therapies for improving the lives of people with cancer. The company is focused on developing novel medicines that target key molecular pathways. For more information about Onyx, visit the company's website at www.onyx.com.
Forward-Looking Statements
This news release contains "forward-looking statements" of Onyx within the meaning of the federal securities laws. These forward-looking statements include without limitation, statements regarding the progress and results of the clinical development, safety, regulatory processes, commercialization efforts or commercial potential of Kyprolis (carfilzomib) or oprozomib. These statements are subject to risks and uncertainties that could cause actual results and events to differ materially from those anticipated, including risks related to the development and commercialization of pharmaceutical products. Any statements contained in this press release that are not statements of historical fact may be deemed to be forward-looking statements. Reference should be made to Onyx's Annual Report on Form 10-K for the year ended December 31, 2012, filed with the Securities and Exchange Commission under the heading "Risk Factors" for a more detailed description of such factors. Readers are cautioned not to place undue reliance on these forward-looking statements that speak only as of the date of this release. Onyx undertakes no obligation to update publicly any forward-looking statements to reflect new information, events, or circumstances after the date of this release except as required by law.
(1) American Cancer Society, Cancer Facts & Figures 2012
(2) National Analysts & Kantar Health Market Research