Hong Kong, China – FlipPageMaker.com, maker of various digital publishing tools for consumers and businesses, has announced FlipBook Creator Professional v1.8.8 enables users to add multimedia objects to mobile versions of page flip books. Videos, photo slideshows, links, and other forms of multimedia can now be viewed on a mobile device as the flipbooks are made mobile-ready during conversion. Previously, these objects could not be viewed on mobile devices such as iPad; only text content and links could be seen with the old FlipBook Creator Professional.
All multimedia objects are chosen when the Flip template is selected for a mobile version of a flipbook. In a mobile version created by the professional flip magazine software, multimedia elements can now be seen. Users can embed video from YouTube or a Flash file, JavaScript, and graphics and buttons. Anyone reading the e-book on a mobile device will see these as the creator intended them to look. While creating the flipbook, software users should choose the Flip template for the mobile version; it enables video to be seen on iPad.
Multimedia elements on flipping pages also appear optimally with other templates, including Neat, Spread, Float, and Classical. These pre-configured templates are loaded into the software and are ready to use whenever the user selects them. With multimedia viewable on mobile devices, readers can see the flipbook while on the go and make the most of its features. It avoids frustration of not seeing what is available, but also opens the door for mobile users to see products they can buy directly from their device, giving a business the benefits of a more functional e-commerce medium.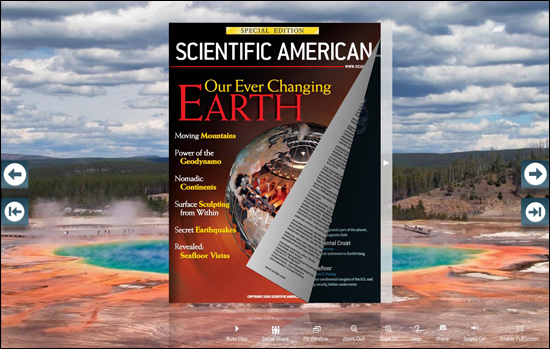 The templates can be easily selected through this online magazine software interface, in seconds. Mobile versions of flipbooks are generated in HTML5 format and are viewable on iPad, iPhone, and Android devices. They are also viewable in flip, single flip, or slide display modes, so there are even more options to create unique flipping e-books which can be seen on a mobile unit. Combined with different themes and templates and the ability to add all kinds of multimedia, the software offers the chance to create all kinds of unique e-books, brochures, magazines, newsletters, reports, and more.
To learn more about FlipBook Creator Professional v1.8.8 and the ability to create page flipping e-books that are viewable on mobile devices, visit http://flippagemaker.com/flippingbook-maker-pro/index.html.
About FlipPageMaker.com
FlipPageMaker.com offers digital publishing tools, including PDF to flipbook creating software, to businesses and consumers. Established in 2008, the China-based company provides these unique tools for creating e-books, catalogs, guides, magazines, and more. Customer support is top notch and feedback is accepted on all software titles. The company uses the comments and suggestions of users to add new features and upgrades to products.
| | |
| --- | --- |
| Permalink to: Readers Can Now View Multimedia Elements on Their iPad Tablets | http://www.wireservice.co/technology/readers-can-now-view-multimedia-elements-on-their-ipad-tablets/8049/ |
| | |
| --- | --- |
| Include this: Readers Can Now View Multimedia Elements on Their iPad Tablets | <a href="http://www.wireservice.co/technology/readers-can-now-view-multimedia-elements-on-their-ipad-tablets/8049/"><"Readers Can Now View Multimedia Elements on Their iPad Tablets"></a> |