Hong Kong, China – With FlipBook Creator for Windows v3.8.8, users now have a convenient software tool for converting PDFs into e-books with flipping page effects. The newest version of the flip page software allows users to convert their PDF files in minutes, while preserving the hyperlinks, bookmarks, table of contents, and more. It is also possible to customize the look and feel of flip books and choose from free templates and themes. Numerous other features add to the software's flexibility.
Adobe originally launched PDF in the early 1990s to format documents such that readers did not have to have a specific set of hardware, operating system, or other software. The file format is convenient because it can be read from anywhere, as long as the person has the free Adobe Acrobat Reader or other simple tools. Text, graphics, and images can be easily preserved, in addition to hyperlinks, file attachments, and text notes in a PDF document.
Also allowing for high levels of data encryption and file compression, PDF appeals to many different document applications and remains a highly versatile and popular format. Storing and managing files electronically is simple and safe. This is why so many businesses rely on PDF for document management, even converting from other formats to make storing files simple before presentations or setting up a marketing campaign. Better yet, they can be read on computers, laptops, and mobile devices like tablets and smartphones.
FlipBook Creator is designed specifically to work with PDF files. For just $99, users can have an application that allows them to create a professional-looking flipping book in little time. With its flexibility, users can create a simple pdf to page flip book or take advantage of additional functions to add an extra touch to it. With templates and themes, businesses can include advertising or enhance their branding, while Search Engine Optimization support allows one to use Google Analytics to track the performance of their flip books online.
A digital flip book is the ideal advertising tool. It can also be made as a company brochure or into a magazine or newsletter one can subscribe to. Product catalogs can also be created, so the software provides a medium just about any business can make use of. A pdf to flippingbook from a PDF file preserves the links, table of contents, and text format, except that it has a visually appealing page flipping effect that can impress business associates and entice customers to buy.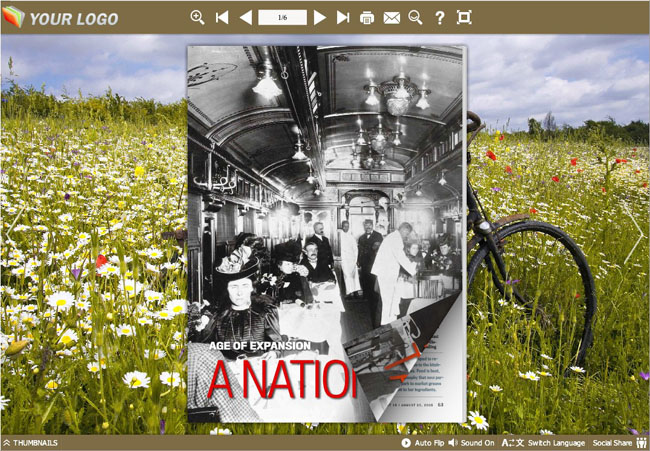 For more information on FlipBook Creator and how well it converts PDF files, visit http://flippagemaker.com/flippingbook-maker/index.html.
About FlipPageMaker.com
FlipPageMaker.com is a software company devoted to creating innovative digital publishing tools. Its PDF to flip book conversion software has become widely popular in the software marketplace. Established in 2008, the company continues to introduce new products and improve on its existing line of convenient software.
| | |
| --- | --- |
| Permalink to: PDF Conversion Now Is Easy With Convenient Features | http://www.wireservice.co/technology/pdf-conversion-now-is-easy-with-convenient-features/7793/ |
| | |
| --- | --- |
| Include this: PDF Conversion Now Is Easy With Convenient Features | <a href="http://www.wireservice.co/technology/pdf-conversion-now-is-easy-with-convenient-features/7793/"><"PDF Conversion Now Is Easy With Convenient Features"></a> |