Hong Kong, China – Software creator 3DPageFlip.com has announced that its "Themes 2013" page is now built up. It provides centralized access to all of the available themes used to enhance the appearance of page flip books and customize them to the user's needs. Each theme is intended to attract readers with a more visually appealing and functional interface. Available in a standard .zip file format, the themes and templates are supported by most operating systems so users can install them easily.
Designer for 3DPageFlip.com, Lori Zeng, said, "The page will be updated every working day." Continual updates will provide users with an increasing number of options for customizing their e-books, magazines, brochures, and more. There is no need for design skills or any technical expertise. Software users just have to download the themes and apply them using simple interface tools; the process takes just a few seconds once a particular theme is chosen.
The themes are suitable for use with 3D PageFlip or 3D PageFlip Professional, and other software the company offers such as 3D PageFlip for Image, 3D PageFlip for PowerPoint, or 3D PageFlip for ePub. While there are options for users to design their own themes, the pre-configured ones can be downloaded and integrated into the program easily. Start the program and, using the design setting panel, set the logo file, link, base color, tilt angle, and background configuration; then click on the "Apply Change" button.
Next comes the theme setting. By clicking the "File" icon, an option appears for "Export Current Settings as Theme". Users define the output folder and the name of the theme, which is then saved in a folder. Access the "File" icon again to choose "Import Theme". All of the available ones are displayed and the user can click on the desired imported theme in the template section to apply it to their flipbook.
Not only does this process allow users to make each flipbook unique. It also saves a great deal of time. A totally unique and customized e-book can be created in minutes, and it only takes seconds to choose a theme. The 3D page flip software is a versatile application that supports this function in creating e-books. It can be used by businesses distributing online magazines, newspapers, business brochures, corporate reports, and annual reports. Any kind of event leaflet or flyer can be designed, while educational books, newsletters, sales materials, interactive books, product catalogs, and more can be created. In fact, the software is fine for creating any type of multi-page, interactive document intended for customers or internal stakeholders to see.
For more details on the downloadable themes now available, visit http://3dpageflip.com/themes-2013.html.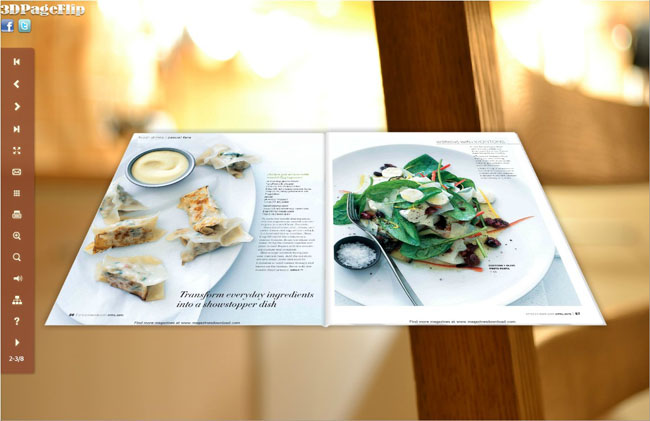 About 3DPageFlip.com
Targeting business, organizational, and union customers, 3DPageFlip.com offers innovative PDF to flippingbook software for creating realistic 3D e-books out of PDF files. Anyone can create online publications such as business brochures, magazines, catalogs, digital newspapers, and more. The company was established in 2008 and continues to grow its product line and capabilities to meet the needs of various kinds of customers.
| | |
| --- | --- |
| Permalink to: Flippingbook Themes 2013 is Updated by Professional Designer Continually | http://www.wireservice.co/technology/flippingbook-themes-2013-is-updated-by-professional-designer-continually/7701/ |
| | |
| --- | --- |
| Include this: Flippingbook Themes 2013 is Updated by Professional Designer Continually | <a href="http://www.wireservice.co/technology/flippingbook-themes-2013-is-updated-by-professional-designer-continually/7701/"><"Flippingbook Themes 2013 is Updated by Professional Designer Continually"></a> |