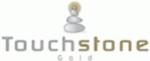 TORONTO, ONTARIO -- (Marketwire) -- 03/18/13 -- Touchstone Gold Limited (TSX: TCH)(AIM: TGL) ("Touchstone Gold" or the "Company") is pleased to report positive results from preliminary metallurgical test work completed by Acme Metallurgical Laboratory (AcmeMet) in Vancouver, Canada for its Segovia Gold Project in Antioquia, Colombia.
Highlights


--  Positive results from metallurgical tests conducted on two composite
    samples: Pepas #1 and Pepas #2

--  Initial results indicated recoveries from 87.9 to 95% gold in flotation
    concentrate

--  Cyanide leaching provided recoveries ranging from 40.5 to 90.7%

--  First phase of a 15,000-metre diamond drill program currently underway
    at the project, with first assay results expected in April 2013

--  A Summary of the results is presented in Table 1 below:

Table 1 - Summary of Recoveries by Method

----------------------------------------------------------------------------
                                                    Recovery %
                                      --------------------------------------
Method              Sample                             Au                 Ag
----------------------------------------------------------------------------
Flotation           Pepas #1                         87.9               75.3
                    Pepas #2                         95.0               94.4
----------------------------------------------------------------------------
Gravity Concentrate Pepas #1                 51.9 to 61.6       32.7 to 46.5
                    Pepas #2                 42.1 to 50.2       30.6 to 39.9
----------------------------------------------------------------------------
Cyanide Leaching    Pepas #1                 87.6 to 90.7                N/A
(48 hours)          Pepas #2                 40.5 to 67.6                N/A
----------------------------------------------------------------------------


"We are pleased to receive such encouraging results from the preliminary metallurgical testing for our project," commented Dave Wiley. "These results give us a better understanding of the deposit's recovery profile of high grade sulphide mineralization and provide direction for how we can further optimize the processing procedures being investigated.
The next step in our metallurgical test work will be analyzing a much larger bulk sample and further honing the parameters used for each potential recovery method. Our drill program at the project is continuing in parallel and we look forward to updating the market further in due course."
Details
Preliminary scoping metallurgical test work was conducted on two composite samples, Pepas #1 and Pepas #2, taken from the Rio Pescado Property at the Company's Segovia Project. The primary purpose of the test program is to investigate the recovery and extraction of gold by batch froth flotation, gravity and cyanide leaching processes.
Composite Pepas #1 and Pepas #2 consisted of bulk samples weighing 88.1kg and 87kg, respectively. Composite Pepas #1 was made up of rock chip samples from underground artisanal workings at Pepas. Composite Pepas #2 was made up of coarse core rejects from selective sulphide high-grade drill core from the Pepas area. The head assays of gold (Au) and silver (Ag) are summarized in Table 2 below:


Table 2 - Sample Head Grade

----------------------------------------------------------------------------
Composite ID                                 Au g/t                   Ag g/t
----------------------------------------------------------------------------
Pepas #1                                        5.8                      5.5
----------------------------------------------------------------------------
Pepas #2                                       26.3                     13.5
----------------------------------------------------------------------------


1. FLOTATION
Scoping flotation tests were conducted on both of the composite samples at a grind size of 72 to 74 microns. Both Pepas #1 and Pepas #2 were highly amenable to scoping flotation tests, achieving gold recoveries of 87.9% Au and 75.3% Ag in 11.4% mass yield, and 95% Au and Ag in 20.6% mass yield respectively.
2. CENTRIFUGAL GRAVITY CONCENTRATION
Feeds were grounded to four target sizes ranging from 71 to 194 microns and were processed through the gravity concentrator three times to determine the amount of free milling gold that can be recovered by gravity. Panning to stimulate cleaning by a shaking table was utilized to further upgrade each gravity concentrate. Au recoveries on Pepas #1 ranged from 51.9 to 61.6% and on Pepas #2 from 42.1 to 50.2%.
3. CYANIDE LEACHING
Cyanide leach tests were conducted on four grind sizes ranging from 71 to 194 microns and were leached for 48 hours (except for one test which was 72 hours) by bottle roll at a pH 10.5 and Sodium Cyanide (NaCN) concentration of 1.0 (except for one test which used an NaCN concentration of 5.0 g/L) After 48 hours gold recoveries for Pepas #1 ranged from 87.6 to 90.7 and for Pepas #2 from 40.5 to 67.6%. After 72 hours the Au recover increased to 70.4% for one test.
This initial range of test work suggests that the gold has a strong association with sulphides, possibly allowing a wide range of concentration and processing alternatives to optimise recovery. Both the Pepas #1 and Pepas #2 samples responded well to flotation (recovering 87%+ of Au), while more than 42% of the gold in the samples was recoverable by gravity concentration methods. The results of the cyanide leach tests of the higher grade (26 g/t) Pepas #2 sample, relative to Pepas #1, suggest that additional work is required to understand the metallurgy of the sulphide mineralisation and to optimise key parameters including grind size and leach time. Such test work and flow sheet development will aid in the optimization of gold recoveries utilizing flotation, gravity and cyanide leaching processes.
Exploration
The deposit in the Rio Pescado property of the Segovia Gold Project has a drill tested strike length of 800 metres by a vertical depth of 100 metres. To date, the Company has drilled over 15,000 metres in 193 drill holes at the Rio Pescado property to date. The deposit is currently open down-dip to the west, along strike to the south and at depth. The first phase of a 15,000-metre diamond drill program is currently underway to conduct infill, step out and exploration drilling at the Company's previously identified and newly discovered target zones within the project.
The first assay results from Touchstone's current drill program are expected to be received in April 2013.
Technical Information
John Nicholson, Chief Geologist of Touchstone Gold Limited, is a qualified person as defined by National Instrument 43-101 and prepared or reviewed the preparation of the scientific and technical information in this news release with respect to the assay results from the drilling program. Mr. Nicholson has a B.Sc. from the University of British Columbia, is a Fellow of the Royal Geographical Society and has been an accredited member of the Association of Professional Engineers and Geoscientists since 1992. Mr. Nicholson has verified the data disclosed in this release, including the sampling, analytical and test data underlying the information presented. Verification included a review and validation of the applicable assay databases and reviews of assay certificates.
About Touchstone Gold
Touchstone Gold Limited (TSX: TCH)(AIM: TGL) is a gold exploration company with a highly-prospective gold project in the Segovia District of Colombia. The Company's Segovia Gold Project hosts a high-grade near-surface gold deposit, Rio Pescado Deposit, which spans along 15km+ of potential strike length. Only 5% of the Company's property has been drilled to date and several identified target zones, which hosts high-grade gold geochemical anomalies is due to be drilled in the near-term. A maiden NI 43-101-compliant resource estimate on the Company's project is scheduled to be released by the end of 2013.
With a philosophy of creating value by the systematic exploration and development of Touchstone's existing assets as well as the acquisition of suitable exploration and development mineral projects, Touchstone's long-term intention is to build a significant gold exploration and production company.
For additional technical information on the Rio Pescado Deposit, please refer to the Company's technical report (the "Technical Report") entitled "Technical Report on The Rio Pescado Gold Property, Republic of Colombia" dated June 30, 2012, prepared by Peter A. Christopher PhD., P.Eng. of PAC Geological Consulting available on SEDAR at www.sedar.com and on the Company website at www.touchstonegold.com.
Cautionary Note Regarding Forward-Looking Information
Certain information set forth in this press release contains "forward-looking information" under applicable securities laws. Except for statements of historical fact, certain information contained herein constitutes forward-looking information which includes the completion of the Acquisition, the drill program and management's assessment of Touchstone's future plans and operations and are based on Touchstone's current internal expectations, estimates, projections, assumptions and beliefs, which may prove to be incorrect. Some of the forward-looking information may be identified by words such as "expects" "anticipates", "believes", "projects", "plans", and similar expressions. These statements are not guarantees of future performance and undue reliance should not be placed on them. Such forward-looking information may necessarily involve known and unknown risks and uncertainties, which may cause Touchstone's actual performance and financial results in future periods to differ materially from any projections of future performance or results expressed or implied by such forward-looking information. These risks and uncertainties include, but are not limited to: liabilities inherent in mine development and production; geological, mining and processing technical problems; Touchstone's inability to obtain required mine licenses, mine permits and regulatory approvals required in connection with mining and mineral processing operations; competition for, among other things, capital, acquisitions of resources and reserves, undeveloped lands and skilled personnel; incorrect assessments of the value of acquisitions; changes in commodity prices and exchange rates; currency and interest rate fluctuations; various events which could disrupt exploration and development, including labour stoppages and severe weather conditions; and management's ability to anticipate and manage the foregoing factors and risks. There can be no assurance that forward-looking information will prove to be accurate, as actual results and future events could differ materially from those anticipated in such statements. Touchstone undertakes no obligation to update forward-looking information if circumstances or management's estimates or opinions should change except as required by applicable securities laws. The reader is cautioned not to place undue reliance on forward-looking information.