Will 'Oz' Yield Magical Opening for Disney?
Posted on March 08, 2013 at 18:01 PM EST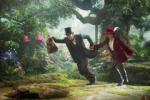 There's a lot riding on Disney's prequel to "The Wizard of Oz," "Oz: The Great and Powerful." The company poured $215 million into producing the film, and while reviews have been mixed, many have been critical.