Less than a year after signing a lease for Durham's former bus transfer station, the Museum of Durham History has garnered sufficient financial support to move ahead with plans for a grand opening this fall.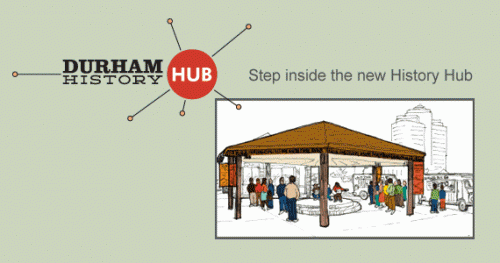 [Press Release Distribution]
The Museum has received facility-focused grants totaling $90,145 since last April, said Executive Director Katie Spencer. "These funds, along with private donations, city and county government operations support and revenues from our growing membership program, are making the History Hub a reality."
Funds received in recent months include:
• $10,000 from Duke Medicine to support a Health and Medicine exhibit
• $47,145 from Durham City's Office of Economic and Workforce Development for facility upfit, signage, an interactive touchscreen linking historical information resources, and a large mounted map depicting Durham's historic sites
• $7,000 from the Durham Merchants Association Charitable Foundation for Story Booth materials and construction
• $10,000 from the PNC Foundation to support educational programming targeting underserved children and families
• $5,000 each from the Duke Energy Foundation and the Fox Family Foundation to support programming related to exhibits
• $1,000 from SunTrust for exhibit-focused upfit
• $5,000 from Duke University for facility upfit
In addition, Glaxo Smith Kline and the Mary Duke Biddle Foundation were early supporters of the Hub's Resource Center and Story Booth, Spencer said.
"It's been gratifying to see the breadth of support the Museum has inspired," she said. "Our online Story Booth campaign raised $8,000, for instance, and in-kind donations of expertise, materials and labor equate to tens of thousands more. It's clear this Museum is something the community wants."
"With upfit nearing completion, we'll focus on exhibit design and fabrication in the months ahead. We also have some educational programming in the works for this spring and summer plus four more pop-up museums. We have our fingers crossed that we can open our doors in October."
For more information about us, please visit
http://www.museumofdurhamhistory.org
Contact Info:
Name: Katie Spencer
Email: kspencer@museumofdurhamhistory.org
Address: 500 W. Main St., Post Office Box 362 Durham NC 27702
Phone: 919-998-6880
Organization: Museum of Durham History
Source: http://marketersmedia.com/museum-of-durham-history-attracts-significant-funding-support/5803