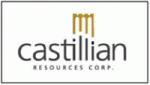 TORONTO, ONTARIO -- (Marketwire) -- 02/15/13 -- Castillian Resources Corp. (TSX VENTURE: CT)(OTCQX: CTIIF) ("Castillian" or the "Company") will consolidate its common shares on the basis of one new common share for every five common shares outstanding effective as of February 19, 2013.
Castillian currently has 337,611,797 common shares outstanding and, following the share consolidation on a five for one basis, will have approximately 67,522,359 common shares outstanding. The change in the number of issued and outstanding common shares that will result from the share consolidation will not materially affect any shareholder's percentage ownership in Castillian, although such ownership would be represented by a smaller number of common shares.
A letter of transmittal will be sent by mail to shareholders advising that the share consolidation has taken effect and instructing shareholders to surrender the certificates evidencing their common shares for replacement certificates representing the number of common shares to which they are entitled as a result of the consolidation. Until surrendered, each certificate will be deemed for all purposes to represent the number of common shares to which the holder thereof is entitled as a result of the consolidation.
The share consolidation was approved by the shareholders of Castillian at the annual general and special meeting held on May 9, 2012. Further details regarding the share consolidation are contained in the Company's Information Circular dated April 5, 2012, which has been filed under the Company's profile on SEDAR at www.sedar.com.
ABOUT CASTILLIAN RESOURCES
Castillian Resources Corp. is a Canadian mineral exploration company listed on the TSX Venture Exchange under the symbol "CT" and on the OTCQX International under the symbol "CTIIF". The Company has gold and base metal properties in Canada and South America. Castillian's flag ship property is the Hope Brook Gold Project located in southwestern Newfoundland, which has 2.4 million tonnes at 1.48 g Au/t for 590,000 ounces of NI 43-101 compliant indicated mineral resources and 8.2 million tonnes at 2.07 g Au/t for 548,000 ounces of inferred mineral resources (see technical report entitled "Updated Mineral Resource Estimate Technical Report, Hope Brook Gold Project, Newfoundland and Labrador, Canada", effective October 1, 2012). Castillian has outlined an extensive new Gold-in-Soil anomaly trend on its Canadian Creek property in the Yukon that is adjacent to Kaminak's Coffee property.
QUALIFIED PERSON
Dr. Bill Pearson, P.Geo., President and CEO of Castillian, who is a qualified person as defined by NI 43-101, has reviewed and approved the scientific and technical content of this press release.
Cautionary Note Regarding Forward-looking Information
This press release contains "forward-looking information" within the meaning of applicable Canadian securities legislation. Forward-looking information includes, but is not limited to, statements regarding exploration prospects. Generally, forward-looking information can be identified by the use of forward-looking terminology such as "plans", "expects" or "does not expect", "is expected", "budget", "scheduled", "estimates", "forecasts", "intends", "anticipates" or "does not anticipate", or "believes", or variations of such words and phrases or state that certain actions, events or results "may", "could", "would", "might" or "will be taken", "occur" or "be achieved". Forward-looking information is subject to known and unknown risks, uncertainties and other factors that may cause the actual results, level of activity, performance or achievements of the Company to be materially different from those expressed or implied by such forward-looking information, including but not limited to: general business, economic, competitive, political and social uncertainties; the actual results of current exploration activities; future prices of mineral prices; failure of plant, equipment or processes to operate as anticipated; accidents, labour disputes and shortages and other risks of the mining industry. Although the Company has attempted to identify important factors that could cause actual results to differ materially from those contained in forward-looking information, there may be other factors that cause results not to be as anticipated, estimated or intended. There can be no assurance that such information will prove to be accurate, as actual results and future events could differ materially from those anticipated in such statements. Accordingly, readers should not place undue reliance on forward-looking information. The Company does not undertake to update any forward-looking information, except in accordance with applicable securities laws.
NEITHER TSX VENTURE EXCHANGE NOR ITS REGULATION SERVICES PROVIDER (AS THAT TERM IS DEFINED IN THE POLICIES OF THE TSX VENTURE EXCHANGE) ACCEPTS RESPONSIBILITY FOR THE ADEQUACY OR ACCURACY OF THIS RELEASE.
Contacts:
Castillian Resources Corp.
Rob Hopkins
Investor Relations Manager
416-861-5899
rhopkins@castillian.ca

Castillian Resources Corp.
Bill Pearson
President & CEO
416-861-2968
president@castillian.ca

Castillian Resources Corp.
65 Queen Street West, Suite 815
Toronto, Ontario, Canada
M5H 2M5
www.castillian.ca