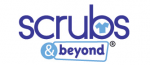 BRENTWOOD, MO -- (Marketwire) -- 02/06/13 -- Scrubs & Beyond, a leader in the medical apparel industry, is excited to introduce new collections for spring 2013 -- all with STRETCH. Just in are Antidote active stretch medical scrubs, Smitten super stretch nursing scrubs, Healing Hands Purple Label stretch, and Med Couture scrubs new Med Couture Gold with silky soft stretch. In addition to these new stretch lines, you will find exclusive Dansko nursing clogs only available at Scrubs & Beyond. Other exclusive items are their soft, fun and practical long sleeve tees in solids, prints, and bling appliqués, perfect for layering and starting at only $12.99.
Again this spring, Koi scrubs are back and better than ever. Darling print scrub tops that coordinate with turquoise, navy, royal, ice blue, flamingo pink and new Limeade in your favorite 701 Lindsey and 709 Sara pants. Pair any one of these stylish outfits with a Koi by Sanita shoe and you have a polished look that will put "spring" in your step.
Wonder Wink is back and hotter than ever. They added two hot new colors for spring -- orange and grape. Orange is showing up all over the malls and department stores and is a definite must have color. There are 14 different color options to choose from in totally cool and affordable looks from Wink Origins.
Landau Smart Stretch collection has made a grand entrance with soft stretch solids and super cute coordinating prints. For a limited time, save $10 off any two Landau Smart Stretch items. To save, visit their site to see Landau Smart Stretch items and purchase 2 or more items from the category, enter code LANSTRCH at checkout. Once you try them, you will see why they are getting so much buzz.
For the latest news and discounts, download the new Scrubs & Beyond App by clicking on http://www.getsbapp.com/ and receive $10 off any purchase of $50 or more. To request a current catalog, find a list of all Scrubs & Beyond store locations, or for a link to follow us on Facebook, visit www.ScrubsandBeyond.com or call direct at 1-866-972-2849.