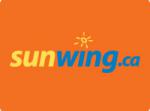 TORONTO, ONTARIO -- (Marketwire) -- 02/01/13 -- Editors Note: There is a photo associated with this press release.
As the deep freeze of winter extends its grip, Sunwing is offering travellers our "Last Chance to Thaw Out Specials" featuring deals on all inclusive vacation packages with savings up to 30%.
This limited time offer is valid until February 8 and applies to departures between February 19 and March 31, 2013 at participating hotels. Sunwing suggests booking soon as space is selling fast at many of our prime resorts.
All Sunwing vacations include "Sunwing Airlines' Champagne Service", which features hot towel service, a choice of hot meals at lunch and dinner served with a choice of wine, and complimentary in-flight entertainment, including first run movies. For just $40 more per flight segment, travellers can upgrade to Sunwing's Elite Plus service, which features advance seat selection, separate check-in at a majority of airports, advance boarding, 30 kg baggage allowance, and extra legroom seats.
For more information, visit www.sunwing.ca. To book, visit your travel agent.
To view the photo associated with this press release, please visit the following link: http://www.marketwire.com/library/20130201-LastChance800.jpg.