Busch: Could a Chicago 'Quirky' Democrat Help Rebuild the GOP?
Posted on January 28, 2013 at 10:41 AM EST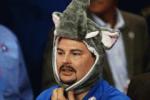 I think Republicans can follow the lead of a Chicago Democrat and let the American voter decide. You say this is an apostasy? You say this is an abomination? You say this is abandonment of the Republican core? Fear not, oh lost Republicans, and read on.