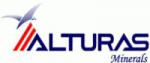 TORONTO, ONTARIO and LIMA, PERU -- (Marketwire) -- 01/24/13 -- Alturas Minerals Corp. (the "Company" or "Alturas") (TSX VENTURE: ALT)(LMA: ALT) is pleased to announce that it has exercised its option to acquire the 375 hectare Esperanza Uno mining concession from its original owner Compania Minera Agregados Calcareos S.A. ("COMACSA"). Alturas now owns 100% of the mining rights of the 3,700 hectare Huajoto project in the Huancavelica region, Central Peru.
On December 28th, 2012 the Company and COMACSA signed a contract terminating the local mining option and assignment agreement and executing the transfer of the mining concession previously held by COMACSA. In consideration for the Esperanza Uno concession, COMACSA is entitled to a 5% net profit interest royalty on all metals extracted from the Huajoto property block.
In compliance with the contract, the parties have agreed that: (i) If after four (4) years of having entered into this agreement, the construction of mining facilities within any of the Huajoto concessions has not started in order to proceed with the commercial production stage; or (ii) If after six (6) years of having entered into this agreement, the commercial production within any of the Huajoto concessions has not started, then ALTURAS shall pay COMACSA an annual amount of US$ 50,000.00 (fifty thousand and 00/100 US Dollars) as an advance on the net profit interest royalty.
Miguel Cardozo, President and CEO of the Company commented, "We are pleased to now have 100% ownership of the mining concessions covering the 3,700 hectare Huajoto project. Based on the positive exploration results to date, we believe that the Huajoto property has the potential to yield significant value to Alturas, including the zinc, copper and rare earth mineralization indicated from prior drilling in the Caty-Pablo area and the still unexplored gold-silver high-sulfidation potential mineralization in the La Virgen area, that may also eventually represent a mineralized lithocap overlying a porphyry-related mineralization center."
About the Huajoto Zinc-Gold-Copper-Rare Earth Element project
The Huajoto Project is situated 22 kilometers northwest of the historical mining town of Huancavelica in Central Peru. The project is comprised of eight contiguous mineral concessions totaling 3,700 hectares.
The property includes over 7.0 x 5.0 kilometers of strong hydrothermal alteration centered on a Late Tertiary felsic eruptive center. The system is the northern most of several alteration centers distributed along a well-defined, NNW-SSE striking, +20 kilometer long belt of skarn, polymetallic and epithermal deposits.
Geologically, the Huajoto Volcanic Complex (HVC) is a sill and flow complex of felsic to intermediate composition cutting the Mesozoic Pucara limestone dominated basement. Small diatreme breccia pipes attest to explosive felsic eruptive activity. Airfall tuffs appear to represent a synchronous or possibly later pyroclastic phase. Faulting is complex and intense, probably reflecting strong extension in the roof of a sub-circular, sub-volcanic/plutonic complex, which measures around 10 x 10 kilometers in dimension.
There are surface and drilling reports of two different styles of mineralization on the Huajoto Property: high-sulfidation epithermal gold mineralization (La Virgen target) that may represent a mineralized lithocap overlying a porphyry-related mineralization center and zinc-skarn and replacement (Cathy-Pablo target) in the peripheral volcanic and sedimentary sequence.
Alturas initiated an intensive surface exploration program in August 2007 followed up by a first phase drilling campaign of these targets comprising 2,501 meters that was executed in the third quarter of 2008.
Best results reported were from drill hole JOT-08-01, which intersected a near surface 106.5 meter thick polymetallic mineralized package between 11.5 and 118.0 meters averaged 1.64% zinc and 0.09% copper. This package includes an upper section of 48.5 meters assaying 2.24% zinc and 0.13% copper from 11.5 to 60.0 meters and a lower section of 17.0 meters assaying 3.26% zinc and 0.18% copper from 101.0 to 118.0 meters. Within these two sections, higher grade intervals of 5.80 meters assaying 3.48% zinc and 0.18% copper, and 4.40 meters assaying 7.28% zinc and 0.37% copper, were encountered. Alturas has recognized that strongly anomalous rare earth element (REE) values exist within the alkaline volcanic rocks hosting the zinc mineralization.
For maps and an extended summary of exploration results, refer to the Company's website www.alturasminerals.com/project-pdfs.html.
About Alturas Minerals Corp
Alturas is a Canadian corporation and is the indirect parent of the Peruvian company, Alturas Minerals S.A. ("Alturas Peru"), and of the Chilean company, Alturas Chile Limitada ("Alturas Chile"). Alturas Peru has been exploring various mineral projects in Peru since January 2004. Alturas Chile initiated exploration activities during the second quarter of fiscal 2010. Alturas' exploration strategy is focused on the discovery of large copper-gold porphyry/skarn deposits and epithermal gold mineralized deposits.
The principal assets of Alturas comprise one project in drilling stage (Chapi Chapi-Utupara) and five drill-ready mineral exploration projects located in Peru and Chile, including the Sombrero, Huajoto, Ccaccapaqui and Pampa Colorada projects in Peru, and La Corina in Chile. Alturas entered into a transfer agreement of its Pampa Colorada property with Origen Group S.A.C. but maintains royalty rights and a claw back clause on 60-100% of the mining rights under certain conditions (see press release dated January 5th, 2012). Alturas also executed an option agreement of its Ccaccapaqui project with Compania de Minas Buenaventura S.A.A. (see press release dated January 31st, 2012). Alturas is also advancing its two recently acquired gold-copper projects Marilin and Quispe in the Maricunga belt of northern Chile. In addition, Alturas has interests in three other less-advanced exploration projects in Peru (Callejones, San Antonio and La Divina).
About Alturas's QA/QC Procedures
Strict sample integrity is maintained throughout the geochemical sampling program at Huajoto. The bagged samples are transported by Alturas staff to the city of Huancayo in central Peru where they are shipped directly to Australian Laboratory Services (ALS) in Lima. At the ALS's Lima facility, all samples are dried then crushed to 70% -10 mesh (less than 2mm) size; then riffle split to obtain an approximately 250 gram subsample. The subsample is further crushed to 85% -200 mesh (less than 75 microns) to obtain a 100 gram split ready for analysis. All samples are routinely assayed for gold by conventional fire-assay methods at ALS Lima facility and for 35 additional elements (including silver, copper, lead, zinc) using aqua regia acid digestion followed by Inductively Coupled Plasma-Atomic Emission Spectroscopy ("ICP-AES") analysis. Samples reporting greater than 1% zinc are routinely assayed using a 4 acid decomposition/volumetric technique and analyzed by Atomic Absorption Spectroscopy. Rare Earth Elements assays are conducted in the Canadian facilities of ALS and form part of a 38 element suite analyzed using the Lithium Metaborate Fusion decomposition technique followed by Inductively Coupled Plasma-Mass Spectroscopy ("ICP-MS") analysis. Alturas follows a rigorous QC/QA program, including routine insertion of standards and blanks as well as assay of duplicate samples at other independent laboratories. Certified standards of known gold grade are inserted "blind" every 20th sample as an independent check on assay accuracy.
Alturas follows a rigorous QC/QA program, including routine insertion of standards and blanks as well as assay of duplicate samples at other independent laboratories. Certified standards, of known gold grade are inserted "blind" every 20th sample as an independent check on assay accuracy.
As required by the National Instrument 43-101, Alturas's designated Qualified Person for the supervision of exploration of the projects is Dr. Paul Pearson, F. AUSIMM, who has reviewed the technical information reported in this News Release.
For further information, please visit the Company's website at www.alturasminerals.com.
Should you wish to receive Company news via email, please email investor@alturasminerals.com and specify "Alturas News" in the subject line.
Cautionary Language and Forward-Looking Statements
This press release may contain "forward-looking statements", which are subject to various risks and uncertainties that could cause actual results and future events to differ materially from those expressed or implied by such statements. Investors are cautioned that such statements are not guarantees of future performance and results. Risks and uncertainties about the Company's business are more fully discussed in the Company's disclosure documents filed from time to time with the Canadian securities authorities.
The TSX Venture Exchange and the Bolsa de Valores de Lima do not accept responsibility for the adequacy or accuracy of this release.
Contacts:
Alturas Minerals Corp.
+ 51-1-372-3739 (Lima, Peru)
+ 1-416-363-4900 (Toronto, Canada)
investor@alturasminerals.com
www.alturasminerals.com

Alturas Minerals Corp.
67 Yonge Street, Suite 1102,
Toronto, ON Canada
M5E 1J8

Alturas Minerals Corp.
Av. Del Pinar 180, Suite 804,
Chacarilla del Estanque,
Lima 33, Peru