What Does Phil Mickelson Actually Pay in Taxes?
Posted on January 22, 2013 at 14:04 PM EST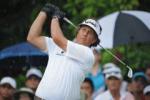 Phil Mickelson's taxes are no doubt high, and they just went up by an additional 7.9 percent over the past three months due to the Cliff deal and California's Proposition 30. But several accountants said that it's unlikely that Phil is paying 62 percent or 63 percent as he claimed to reporters after a recent tournament win.