Could Rentals Be the New Red Flags in Real Estate?
Posted on January 17, 2013 at 12:23 PM EST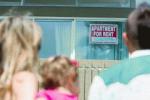 The December housing start numbers beat expectations, sent the stocks of the public home builders higher and prompted housing analysts to exclaim bullish headlines. What they failed to mention is that 30 percent of all housing starts in 2012 were of multifamily apartments.