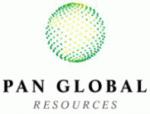 VANCOUVER, BRITISH COLUMBIA -- (Marketwire) -- 01/04/13 -- Pan Global Resources Inc. (TSX VENTURE: PGZ) (the "Company") today announced that it has completed its previously announced non-brokered private placement (the "Offering") and issued an aggregate of 2,747,500 units (the "Units") at a price of $0.40 per Unit for gross proceeds of $1,099,000. The offering was oversubscribed by nearly 250,000 Units.
Each Unit consists of one common share and one share purchase warrant, with each whole warrant entitling the holder to purchase one additional common share at a price of $0.60 for two years from closing of the Offering.
All securities issued with respect to the Offering are subject to a four month hold period expiring April 20, 2013. The Offering is subject to the final approval of the TSX Venture Exchange.
Finder's fees of cash in an amount equal to 6.0% of proceeds and finder's warrants ("Finder's Warrants") equal to 6.0% of the number of Units issued were paid to one finder on a portion of the offering. Each Finder's Warrant will be exercisable to acquire one common share for a period of two years from closing of the Offering at $0.40 per share.
The proceeds of the private placement will be used primarily to further the Company's exploration program in the Republic of Serbia undertaken by our exploration partner, Lithium Li Holdings Inc.
Shares Issued and Outstanding: 31,535,521
NEITHER TSX VENTURE EXCHANGE NOR ITS REGULATION SERVICES PROVIDER (AS THAT TERM IS DEFINED IN THE POLICIES OF THE TSX VENTURE EXCHANGE) ACCEPTS RESPONSIBILITY FOR THE ADEQUACY OR ACCURACY OF THIS RELEASE.