Has It Become Politically Incorrect to Own Gun Stocks?
Posted on December 19, 2012 at 12:55 PM EST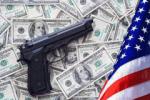 Over the last day or so, there has been a shift in the debate about gun ownership. Until now, the debate has mainly centered on the social or second amendment issues, the right to bear arms. Suddenly, the conversation has moved to include investor responsibility-the power of money.