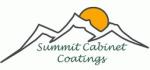 FORT COLLINS, CO -- (Marketwire) -- 12/13/12 -- Summit Cabinet Coatings, a Northern Colorado-based cabinet refacing and refinishing business, is adding hundreds of styles to its available list of custom refacing options. These hundreds of door styles give customers more custom choices when it comes time to create the kitchen of their dreams with the one they already have.
Jen Worden at Summit Cabinet Coatings says, "People usually only take advantage of two or three different designs, but we literally have hundreds to choose from. We know it is a big decision to have work done in the kitchen and we take our craft very seriously. More options coupled with our expertise means our customers will be completely happy with the end result in their home or business."
Summit Cabinet Coatings typically resurfaces existing cabinetry, a process also known as refinishing cabinets. However, about one in ten of Summit Cabinet Coatings' clients take advantage of its refacing services instead of refinishing cabinets to create even more unique spaces in their homes. Refacing can make a dull kitchen or bathroom unique, whether the customer chooses a classic, contemporary, vintage, fancy or artistic style.
Summit Cabinet Coatings orders new raw doors and applies a custom finish "in house." This approach to refacing allows clients to select from a long list of door styles and finishes. Summit Cabinet Coatings custom creates and matches to their existing cabinet frames. In addition, the cabinet refacing experts can consult clients on their choices to transform their kitchen into an extension of their personality and lifestyle.
The approach is significantly more cost-effective since Summit Cabinet Coatings does not apply a veneer or wood paneling to the frames, a practice common in the industry. The Fort Collins cabinet designers simply apply the same cross-linked acrylic finish to both the existing frames and the brand new doors. This translates to a finish that is more durable than other refacing options.
Summit Cabinet Coatings is owned by Jen and Jim Worden of Fort Collins, CO. With over 13 years of experience, the cabinet experts are dedicated to providing high value services and custom options for their customers. The process of refacing and refinishing cabinets has many advantages over replacing cabinets such as speed, cleanliness and cost. Summit Cabinet Coatings performs cabinet refacing and refinishing in home and commercial kitchens, bathrooms and any other room that has cabinets. For more information about refinishing cabinets with Summit Cabinet Coatings call (970) 282-9856 or visit www.summitcabinetcoatings.com.
Add to Digg Bookmark with del.icio.us Add to Newsvine