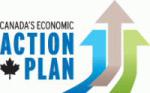 OTTAWA, ONTARIO -- (Marketwire) -- 12/13/12 -- The Government is moving forward on its Economic Action Plan commitment to better connect Canadians with available jobs, including a new, enhanced Job Alerts system, announced the Honourable Diane Finley, Minister of Human Resources and Skills Development.
"Our government is making common-sense changes to help better connect unemployed Canadians with available jobs in their local area that match their skills," said Minister Finley. "Part of this initiative required regulatory updates, and I am pleased that this process has now been completed."
The Connecting Canadians with Available Jobs initiative, introduced in Economic Action Plan 2012 and announced in May 2012, includes new definitions for "reasonable job search" and "suitable employment." These updated definitions have passed through the regulatory process and will come into force on January 6, 2013. As previously announced, several factors will be considered in defining suitable employment, including: type of work, wages, commuting time, working conditions, hours of work and personal circumstances. While Employment Insurance (EI) regular and fishing claimants have always had an obligation to look for work, these definitions clarify claimants' responsibilities to look for and accept suitable work.
This initiative takes into consideration a claimant's EI benefit payment amount and ensures that, for an employment opportunity to be deemed suitable, a claimant must be better off financially accepting the job than receiving EI regular or fishing benefits. Financial implications associated with accepting a job, such as childcare and transportation costs, will always be considered in determining if a job opportunity is suitable.
"The new, enhanced Job Alerts system is being introduced to improve and strengthen the job information made available to Canadians," continued Minister Finley. "We are pleased to launch this system in January and begin better helping people find employment opportunities in their area, from a variety of sources."
With the enhanced system, claimants will be notified of new job postings daily, so that they can pursue opportunities as they arise. As the system continues to evolve, they will also receive additional information that can help them decide how and when to expand a job search. A claimant may also choose to receive information on related jobs or the job market in other regions.
Finally, the Government will continue working with interested provinces and territories to explore ways to help people on EI access employment supports earlier in their claim. Skills development and training are important elements in addressing Canada's labour and skills shortages. Each year, the Government of Canada transfers $2.7 billion to the provinces and territories to help ensure that all unemployed and low-skilled Canadians get the training and services they need to participate fully in the workforce.
"Our government's top priorities are job creation, economic growth and long-term prosperity for all Canadians, and in order to achieve that, we need everyone's skills and talent at work in Canada," concluded Minister Finley. "These changes will better connect Canadians with available jobs, while ensuring that EI continues to be there for those who need it."
For general information on the EI program, visit servicecanada.ca/eichanges.
IF THERE IS A DISCREPANCY BETWEEN ANY PRINTED VERSION AND THE ELECTRONIC VERSION OF THIS NEWS RELEASE, THE ELECTRONIC VERSION WILL PREVAIL.
This news release is available online at www.actionplan.gc.ca.
Backgrounder
The Employment Insurance (EI) program is Canada's largest labour market program. Its purpose is to provide temporary financial assistance to unemployed Canadians who have lost their job through no fault of their own while they look for work or upgrade their skills. It also provides temporary income support to those who are absent from work for reasons such as sickness, childbirth, parenting or caring for a gravely ill family member.
Approximately 3 million EI claims are processed each year. In 2010-2011, over $17 billion was paid in EI income support to Canadians.
As Canada will be facing increasing challenges associated with an aging population and growing international competition for skilled workers, we need to better connect Canadian workers with available jobs. According to Statistics Canada, there were 267 000 job vacancies across the country in September.
Canadians want to work, but some face challenges in finding suitable work, including: not knowing where or how to find available jobs; not being aware that their skills match needs in another industry or occupation; and not knowing about the supports available to help them in their job search.
To support economic prosperity, the Government will encourage and support Canadians to stay active in the job market-either working or looking for work.
Connecting Canadians with available jobs
Claimants have always had a responsibility to look for suitable work while collecting EI regular and fishing benefits.
To help them find work, the Government is:


--  enhancing the Job Alerts system to include more relevant job postings
    and information about the job market in claimants' local areas.
    Claimants may also choose to receive information on the job market in
    other regions;
--  strengthening links between the Temporary Foreign Worker Program and EI
    program to ensure that qualified Canadians are considered before foreign
    workers; and
--  working with interested provinces and territories to explore ways to
    help people on EI access employment supports earlier in their claim.


"Reasonable job search" and "suitable employment"
In addition, the updated regulations define what constitutes suitable employment and a reasonable job search in very clear terms and will come into effect January 6, 2013.
Several factors will determine what will be considered suitable employment, including:


--  personal circumstances (e.g. poor health, not physically capable of
    performing the work, family obligations and limited transportation);
--  working conditions (e.g.. position offered is not vacant due directly to
    a strike, lockout or other labour dispute);
--  hours of work (e.g. all available hours of work, including hours per day
    and available outside the previous work schedule, are deemed to be
    suitable for employment); and
--  commuting time (e.g. workplace is within a one-hour commute-could be
    higher taking into account previous commuting history and community's
    average commuting time).


Two additional criteria will vary based on the claimant's EI history and the duration of the claim:


--  type of work (e.g. responsibilities, tasks, qualifications, experience);
    and
--  wages.


In determining these criteria, EI claimants will be placed in one of three categories:


--  Long-tenured workers would be those who have paid at least 30 percent of
    the annual maximum EI premiums for 7 of the past 10 years and who, over
    the last 5 years, have collected EI regular or fishing benefits for 35
    weeks or less.
--  Frequent claimants would be those who have had three or more claims for
    EI regular or fishing benefits and have collected benefits for a total
    of more than 60 weeks in the past 5 years.
--  Occasional claimants would be all other claimants.


Additionally, claimants must undertake reasonable job search efforts that are sustained and geared towards obtaining suitable employment, including the following job search activities:


--  research and assessing job opportunities
--  preparing a resume or cover letter
--  registering for job search tools such as electronic job banks or
    employment agencies
--  attending workshops or job fairs
--  networking
--  contacting prospective employers
--  submitting job applications
--  attending interviews
--  undergoing competency evaluations


Union hiring halls will remain a part of a reasonable job search effort. Individuals may restrict job search efforts to only union hiring halls during the weeks where they are required to seek suitable employment opportunities within the same occupation.
For more information on how the new measures can help EI claimants find work, visit servicecanada.ca/eichanges.
Recent changes to EI
The Government recently introduced Bill C-44, The Helping Families in Need Act, that will give parents who receive EI parental benefits access to sickness benefits and create the new EI benefit for parents of critically ill children. The Government has also introduced a new federal income support grant for parents of murdered or missing children.
In addition to Connecting Canadians with Available Jobs, Economic Action Plan 2012 is making EI a more efficient program that promotes job creation and removes disincentives to work through several initiatives.


--  New Variable Best Weeks benefit rate calculation: This permanent,
    national approach will better align the calculation of EI benefit
    amounts with local labour market conditions. Unlike the previous pilot
    projects that were available only in some regions, the new legislated
    Variable Best Weeks benefit rate calculation will be pan-Canadian,
    ensuring that people living in regions with similar employment rates
    receive similar benefits-no matter where they live. Current provisions
    in each region will continue to apply until the new measure is
    implemented on April 7, 2013.

--  EI premium rate: Economic Action Plan 2012 limits EI premium rate
    increases to 5 cents each year until the EI operating account is
    balanced. Once the account has returned to balance, the EI premium rate
    will be set annually at a seven-year break-even rate to ensure that the
    EI operating account is in balance at the end of that period. When the
    seven-year rate-setting mechanism is in place, annual adjustments to the
    rate will continue to be limited to 5 cents. These improvements will
    ensure affordability for premium rates while offering ongoing
    predictability and stability.

--  Hiring Credit for Small Business: Economic Action Plan 2012 also extends
    the $1,000 Hiring Credit for Small Business for one year to help small
    businesses defray the costs of hiring new workers.

--  Working While on Claim pilot project: The new pilot project that went
    into effect on August 5, 2012, is intended to help claimants stay
    connected with the labour market by encouraging these claimants to
    accept available work while receiving EI benefits and earn additional
    income while on claim.


Starting January 6, 2013, eligible claimants may also have the option of reverting to the provisions of the previous pilot project to give them time to transition and adjust to the new approach.
Contacts:
Alyson Queen
Office of Minister Finley
819-994-2482

Media Relations Office
Human Resources and Skills Development Canada
819-994-5559