Forget Grexit - What About a Brixit?
Posted on December 12, 2012 at 05:14 AM EST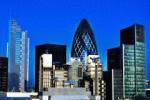 The United Kingdom has never been the most ardent fan of the European Union. And is it any wonder? When it originally joined the "European Economic Community" just over 40 years ago, it had no idea that legislators based in Brussels would end up telling it that convicted prisoners must be allowed the vote, or that only certain types of bananas could be stocked in a supermarket.