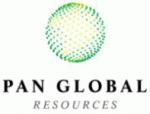 VANCOUVER, BRITISH COLUMBIA -- (Marketwire) -- 12/11/12 -- Pan Global Resources Inc. (TSX VENTURE: PGZ) (the "Company") today announced a non-brokered private placement of 2,500,000 units (the "Units") at a price of $0.40 per Unit for aggregate gross proceeds of $1,000,000 (the "Offering"). Each Unit will be comprised of one common share and one share purchase warrant, with each warrant entitling the holder to purchase one additional common share at a price of $0.60 for two years from closing of the Offering.
A cash finder's fee of 6.0% plus finders' warrants equal to 6.0% of the number of Units issued pursuant to the Offering is payable on a portion of the Offering.
The net proceeds of the private placement will be used to fund exploration on the Jadar West, Valjevo, Lopare and other mineral prospects in Serbia and Bosnia, in which the Company can earn an initial 51% interest, with further options to earn up to an 80% undivided interest, and for working capital.
Completion of the private placement is subject to the approval of the TSX Venture Exchange.
Shares Issued and Outstanding: 28,378,981
NEITHER TSX VENTURE EXCHANGE NOR ITS REGULATION SERVICES PROVIDER (AS THAT TERM IS DEFINED IN THE POLICIES OF THE TSX VENTURE EXCHANGE) ACCEPTS RESPONSIBILITY FOR THE ADEQUACY OR ACCURACY OF THIS RELEASE.