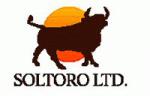 TORONTO, ONTARIO -- (Marketwire) -- 12/11/12 -- Soltoro Ltd. (TSX VENTURE: SOL) has awarded 475,000 incentive stock options exercisable at $0.51 per common share to an officer/director of the Company. This grant of options is in compliance with the terms of the Company's Stock Option Plan and remains subject to the acceptance of the TSX Venture Exchange. This grant of options was awarded after the close on December 10, 2012 and has expiry dates of December 10, 2015 to December 10, 2017.
About Soltoro:
Soltoro is engaged in exploration for bulk tonnage gold and silver deposits in Mexico. Soltoro holds an interest in an excess of 55,000 hectares of ground in Jalisco State. Soltoro is focused on expanding silver resources at the El Rayo silver project while seeking partners to advance the balance of its projects. Soltoro holds 15% of the common shares of Argentum Silver Corp. and a 3% N.S.R. payable to Soltoro on the Victoria and Coyote properties. Soltoro's La Tortuga project has been optioned to Gold Reserve Inc. Soltoro has 59,783,037 shares outstanding and trades on the TSX Venture Exchange under the symbol SOL. Coeur d'Alene Mines Corp. holds 4.5 million shares of Soltoro Ltd.
This communication to shareholders and the public contains certain forward-looking statements. Actual results may differ materially from those indicated by such statements. All statements, other than statements of historical fact, included herein, including, without limitations statements regarding future production, are forward-looking statements that involve various risks and uncertainties. There can be no assurance that such statements will prove to be accurate and actual results and future events could differ materially from those anticipated in such statements.
Neither the TSX Venture Exchange nor its Regulation Services Provider (as that term is defined in the policies of the TSX Venture Exchange) accepts responsibility for the adequacy or accuracy of this release.
Contacts:
Soltoro Ltd.
Andrew Thomson
President
(416) 987-0722
www.soltoro.com