Cramer: Washington Is the Reason You Can't Get Ahead!
Posted on December 06, 2012 at 16:40 PM EST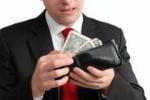 No matter how hard they try, millions of Americans continue to struggle in an economy that seems unable to gain any kind of traction. And Jim Cramer thinks he knows who's to blame. Partisan politics involving the fiscal cliff have paralyzed Corporate America - absolutely paralyzed companies - making them afraid to hire, afraid to make capital purchases -afraid to spend on anything. If lawmakers would set aside politics and reach an agreement - any agreement - Cramer believes the resulting economic boom would far outweigh the burden of raised taxes or spending cuts.