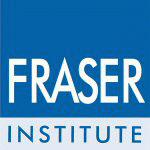 VANCOUVER, BRITISH COLUMBIA -- (Marketwire) -- 11/19/12 -- The Fraser Institute, Canada's leading public policy think-tank, will release a new study that measures income mobility in Canada and how it relates to the ongoing debate about income inequality on Tuesday, November 20 at 6:30 a.m. (Eastern).
Using specially requested data from Statistics Canada, the study tracks how the incomes (what people earn through wages and salaries before taxes) of different groups of Canadians change over time frames of five, 10, and 19 years.
A news release with additional information will be issued via Marketwire on Tuesday, November 20 and the complete study will be available as a free PDF at www.fraserinstitute.org.
Follow the Fraser Institute on Twitter
The Fraser Institute is an independent Canadian public policy research and educational organization with offices in Vancouver, Calgary, Toronto, and Montreal and ties to a global network of 86 think-tanks. Its mission is to measure, study, and communicate the impact of competitive markets and government intervention on the welfare of individuals. To protect the Institute's independence, it does not accept grants from governments or contracts for research. Visit www.fraserinstitute.org.
Add to Digg Bookmark with del.icio.us Add to Newsvine