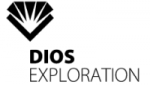 MONTREAL, QUEBEC -- (Marketwire) -- 11/19/12 -- Management of DIOS EXPLORATION (TSX VENTURE: DOS) is pleased to report the acquisition of a new gold project, in the Opinaca-Eastmain Gold Camp, 350 km north of Matagami, James Bay, QC. The wholly-owned SOLO gold project is composed of 55 claims for 29 sq. km along the Lower Eastmain Greenstone belt, part of the Archean La Grande Sub-province, James Bay, Quebec. It is located about 30 km due west of the Km 381 Relay and of the Matagami-Radisson highway, between the Opinaca and Eastmain Rivers.
The SOLO gold property is underlained by favourable complex geological features. The general geological environment suggests a potential for Bousquet type gold or intrusion-related type gold mineralization. The Opinaca-LaGrande Sub-provinces contact is located from two to four kilometres from the SOLO gold property. This gold project covers a folded (tilted syncline towards the south; north dipping) volcanic sequence composed of calc-alkaline sinter to lapillis-blocks felsic-intermediate tuffs (WABAMISK Formation), banded iron-formation (BIF)/ chert, intermediate and tholeiitic mafics. The sequence covers a 5 km strike of untested (and non-outcropping) inputs/ induced polarization anomalies, along which are surimposed gold soil (humus) anomalies. The geophysical anomalies are interpreted as the contact between felsic tuffs and intermediate volcanics and are located near a kilometric tonalite plug intruding the northern limb of the fold. These coincidental anomalies constitute good drilling targets.
This news release was prepared by H. Desbiens, M.Sc. Geo and Vice-President of DIOS, the Qualified Person (43-101).
Neither the TSX Venture Exchange nor its Regulation Services Provider (as that term is defined in the policies of the TSX Venture Exchange) accepts responsibility for the adequacy or accuracy of this release.
Forward-Looking Statements: This news release contains discussion of items that may constitute forward-looking statements within the meaning of securities laws that involve risks and uncertainties. Although the company believes the expectations reflected in such forward-looking statements are based on reasonable assumptions, it can give no assurances that its expectations will be achieved. Factors that could cause actual results to differ materially from expectations include the effects of general economic conditions, actions by government authorities, uncertainties associated with contract negotiations, additional financing requirements, market acceptance of the Company's products and competitive pressures. These factors and others are more fully discussed in Company filings with Canadian securities regulatory authorities.
A map is available at the following address: http://diosexplo.com/images/Solo_CD_2012%20qc.jpg