Tell the Truth: You Still Wanna Be an Astronaut!
Posted on November 15, 2012 at 13:35 PM EST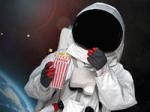 Workers confess to LinkedIn what they always wanted to be when they grew up. Yup, astronaut is on the list. Of course, you've still got a shot! You would be an AWESOME astronaut. Like Buzz Lightyear awesome.