Is it time for the New York Times to embrace sponsored stories?
Posted on November 14, 2012 at 17:15 PM EST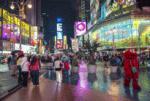 More and more publications are turning to "native advertising" as the solution to declining display ad dollars and readers' ongoing switch to mobile. Will we soon see an advertiser like Tesla paying to include a story in the New York Times?