Why Are India's Retailers Afraid of Wal-Mart?
Posted on October 30, 2012 at 04:47 AM EDT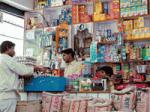 From protests and mass rallies to burning of government effigies, Indian shop owners say Wal-Mart is not welcome in India. But do these businesses have reason to fear the world's biggest retailer entering their market?