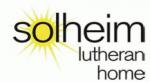 EAGLE ROCK, CA -- (Marketwire) -- 10/12/12 -- Solheim Lutheran Home selected Democratic Assemblyman Anthony Portantino as the recipient of its 2012 "Advocate for Aging Award." Portantino, who decided in January to not seek a fourth term in office and suspend his political career to help take care of his elderly mother in New Jersey, was selected as this year's recipient for his stalwart efforts on behalf of older Californians over the last six years as the Assemblyman of California's 44th District.
"Assemblyman Portantino's decision to help his mother with age-related frailties demonstrates that his values and priorities are in the right place," said James Graunke, Executive Director of Solheim Lutheran Home, a leading California retirement community in Eagle Rock, California. Upon accepting the award, Portantino said, "I have a lot of time left to be a politician, but I only have this moment to help my mother as a son."
This was not the first time Portantino has been honored for his commitment to the elderly. In 2009 Anthony was recognized by Aging Services of California as their "Legislator of the Year." He has authored legislation to remove some of the legal and regulatory burdens for providers who want to provide support services to older people in their own homes. He has been a passionate advocate for maintaining services to older people even in this time of severe restrictions to government funds.
Solheim Lutheran Home is a leading retirement community in Eagle Rock providing quality retirement living since 1923. Solheim is a loving Christian community that provides all levels of care -- Residential Living, Assisted Living, Memory Care and Skilled Nursing -- to older adults of all faiths or none. Solheim is known for its exceptional care with almost a one-to-one staff-to-resident ratio and charitable care for residents who outlive their financial assets.
Add to Digg Bookmark with del.icio.us Add to Newsvine