10 Billion People on Earth: Nightmare or Non-Event?
Posted on October 02, 2012 at 02:17 AM EDT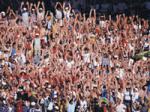 By 2100, some 10 million people will inhabit the earth, according to the United Nations. When that happens will we encounter an "unprecedented planetary emergency" as one learned academic thinks, or could the human spirit harness engineering and technology to embrace the future and its 10 billion people?