Let the Debates Begin, but Do They Really Matter?
Posted on September 28, 2012 at 13:04 PM EDT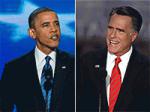 It's the great debate about the debates. President Obama and Mitt Romney go head to head Wednesday, but do the face-offs really matter? Some experts say people are more interested in seeing a train-wreck moment than in hearing substance.