Facebook vs. Twitter, Who Has Edge in Mobile Ad Wars?
Posted on September 06, 2012 at 14:21 PM EDT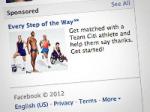 A duo of reports out Thursday said Facebook's ads are working, but mobile still has a ways to go. A survey from Capstone Investments, finds Facebook ads are generating improving return on investment for advertisers "that could lead to increased spend on the platform."