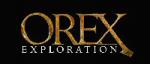 MONTREAL, CANADA -- (Marketwire) -- 08/30/12 -- OREX EXPLORATION INC. (TSX VENTURE: OX)(FRANKFURT: O5D) would like to provide shareholders with an update on the National Instrument 43-101 Mineral Resource Estimate that is currently being done by Mercator Geological Services of Dartmouth, Nova Scotia.
Mercator has completed a validation of all of the recent drilling from 2010 and 2011, as well as all previous drilling, and is developing a new geological model of the Company's wholly-owned Goldboro Gold Property in Nova Scotia. Orex will provide shareholders with additional information on the NI 43-101 Technical Report as it becomes available.
This new geological model, which will contain all available technical information on the Goldboro Gold Property, will enable Orex and its technical advisors to better plan target areas for a bulk sample on this property. As indicated previously, subsequent to the completion of the updated NI 43-101 Technical Report, the Company also intends to conduct a Preliminary Economic Assessment, which will examine the economic feasibility of a production scenario at Goldboro.
About Orex Exploration Inc.
Orex Exploration Inc. is a Canadian-based junior resource and exploration company trading under the symbol OX on the TSX Venture Exchange and O5D on the Frankfurt Stock Exchange. The Company holds a 100% interest in the Goldboro Gold Project in Nova Scotia.
Neither the TSX Venture Exchange nor its regulation services provider (as that term is defined in the policies of the TSX Venture Exchange) accepts responsibility for the adequacy or accuracy of this news release. The statements made in this news release that are not historical facts are "forward-looking statements" and readers are cautioned that any such statements are not guarantees of future performance, and that actual developments or results, may vary materially from those in these "forward-looking" statements.