Wine and Art: What Better Franchise?
Posted on July 16, 2012 at 11:01 AM EDT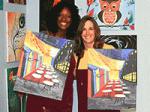 Hand a canvas and some painting supplies to a not-so-budding artist, and a blank stare may follow. But give this same Picasso in the rough a corkscrew and wine glass, and you've got a franchise opportunity.