How Will the Drought Affect Consumer Food Prices?
Posted on July 11, 2012 at 18:45 PM EDT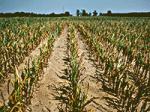 Over the last 30 days corn is up 18.9 percent, wheat is up 30.9 percent, and soybeans have seen a 6.8 percent rise. These big moves are sparking concerns that products that use them will see price increases, especially with respect to corn.