What Do You Eat with a $168,000 Bottle of Wine?
Posted on June 28, 2012 at 11:02 AM EDT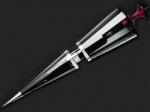 The most expensive wine ever sold directly from a winery will go on sale this week, from the venerable Australian vintner Penfolds. The limited edition release of the 2004 Penfolds Block 42 Cabernet Sauvignon is priced at $168,000 a bottle.