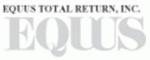 HOUSTON, TX -- (Marketwire) -- 06/21/12 -- Equus Total Return, Inc. (NYSE: EQS) ("Equus" or the "Fund") announced that it has sold to Sovereign Business Forms, Inc. ("Sovereign"), the Fund's 55% fully-diluted equity interest in Sovereign, together with the Fund's promissory note issued by Sovereign and all interest as accrued in exchange for $6.36 million in cash. Sovereign is a business forms manufacturer which operates five printing plants in Texas, Kansas, Tennesseee, and Massachussetts. Having held its interest in Sovereign for approximately 16 years, Equus sought to monetize its investment. In May 2011 an investment banking firm was retained to canvas potential strategic buyers, determine market interest and explore a possible sale of the company. No formal offers in a valuation range acceptable to the Fund were received. Subsequently, Sovereign's Management, with the cooperation of the Fund, refinanced operations to obtain the capital to buy out the position held by Equus.
As a result of the sale of the Fund's interest in Sovereign, the Fund's net asset value will decline $0.04 per share. Based on cash and cash equivalents of $16.8 million held by Equus at March 31, 2012, combined with the proceeds from the sale of its interest in ConGlobal and Sovereign, the Fund's cash increased to approximately $28.4 million, or $2.69 of cash per share.
About Equus
The Fund is a business development company that trades as a closed-end fund on the New York Stock Exchange, under the symbol "EQS". Additional information on the Fund may be obtained from the Fund's website at www.equuscap.com.
This press release may contain certain forward-looking statements regarding future circumstances. These forward-looking statements are based upon the Fund's current expectations and assumptions and are subject to various risks and uncertainties that could cause actual results to differ materially from those contemplated in such forward-looking statements including, in particular, the risks and uncertainties described in the Fund's filings with the SEC. Actual results, events, and performance may differ. Readers are cautioned not to place undue reliance on these forward-looking statements, which speak only as to the date hereof. Except as required by law, the Fund undertakes no obligation to release publicly any revisions to these forward-looking statements that may be made to reflect events or circumstances after the date hereof or to reflect the occurrence of unanticipated events. The inclusion of any statement in this release does not constitute an admission by the Fund or any other person that the events or circumstances described in such statements are material.
Contact:

Patricia Baronowski
Pristine Advisers, LLC
(631) 756-2486