If the CEO Owns a Yacht, Should You Sell the Stock?
Posted on June 11, 2012 at 13:43 PM EDT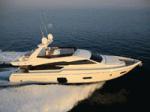 In the past, investors rarely cared much about off-the-job spending by CEOs. But in the current climate, the yacht and Ferrari habits of CEOs may, indeed, be relevant to investors.