Why Did VC Investment Fall Off a Cliff?
Posted on April 20, 2012 at 13:07 PM EDT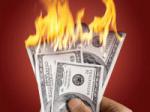 It seems like every week we see another VC-backed company go public and the stock soars - most recently, Splunk stock jumped 109 after going public. With such profitable exits, one would expect venture investors to clamor to pour money into startups. But in fact, the opposite is the case.