That Trip to the Post Office to Mail Your Taxes? Deductible!
Posted on April 16, 2012 at 13:56 PM EDT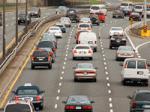 Sole proprietors may be on top of it in terms of getting their taxes done, but they may be cheating themselves: According to data compiled from online accounting solution Outright.com, business owners are neglecting to report mileage expenses on their tax returns.