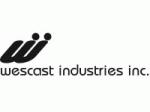 BRANTFORD, ONTARIO -- (Marketwire) -- 03/29/12 -- Wescast Industries Inc. (TSX: WCS.A) today reported year end results for fiscal 2011.


(In thousands of Canadian dollars, except
 per share amounts)                               Twelve Months Ended

                                            January 1, 2012  January 2, 2011
                                           ---------------- ----------------

Sales                                               277,331          262,259

Gross profit                                         15,469           35,361

Net (loss) earnings                                 (4,607)           19,155

Diluted net (loss) earnings per share                (0.35)             1.45

Cash derived from operations                          9,256           15,923


The information presented in this news release is in accordance with International Financial Reporting Standards ("IFRS"). Accordingly, the comparative information provided for the twelve months ended January 2, 2011 has been restated from Canadian GAAP to IFRS.
Highlights


--  The Company has booked $125.0 million of average annualized new and
    replacement business globally in 2011 which the Company expects will
    positively impact results in the future. Each of the Company's business
    units has been launching many new customer programs with production
    starts scheduled through to 2013.

--  The Company reported 2011 consolidated sales of $277.3 million, a 5.7%
    increase compared to the $262.3 million reported in fiscal 2010,
    reflecting higher sales generated by the Company's European and Asian
    business units and lower sales in North America.

--  The Company reported gross profit of $15.5 million for the 2011 fiscal
    year compared to gross profit of $35.4 million in 2010. The decline was
    a result of several factors including operational performance and lower
    casting and machining volumes in North America compared to fiscal 2010.

--  Also impacting gross profit during fiscal 2011 was a $1.2 million
    curtailment loss recorded in cost of sales related to amendments made to
    one of the Company's unfunded retiring allowance plans and the
    eligibility criteria for one of our other benefit plans. The Company
    recorded a curtailment gain of $7.7 million in 2010 related to an
    amendment made to the same unfunded retiring allowance plan.

--  The Company reported a 2011 net loss of $4.6 million compared with net
    earnings of $19.2 million reported in 2010. The Company benefitted from
    the reversal of a $13.0 million valuation allowance in 2010 against
    deferred income tax assets in the U.S. There was no such reversal in
    2011. The net loss per share on a diluted basis was $0.35, compared with
    net earnings per share of $1.45 reported in fiscal 2010.

--  Included in the net loss for fiscal 2011 were expenses of $1.6 million
    related to a review of strategic alternatives with the objective of
    enhancing shareholder value.

--  Included in the net loss for 2011 were foreign exchange translation
    gains of $2.5 million compared to foreign exchange translation losses of
    $3.5 million reported in 2010. Of the $2.5 million reported in 2011,
    $2.1 million was reported within the Asia and Other reporting segment.

--  On March 27, 2012 the Company entered into a second amended and restated
    credit agreement with the Toronto-Dominion Bank and Export Development
    Canada. The second amended and restated agreement provides a 364 day
    committed revolving term credit facility in the maximum principal amount
    of up to $25.0 million Canadian dollars. The facility may be used to
    finance working capital requirements and for general corporate purposes.

--  Over the course of 2011, the Company has been investing in the expansion
    of its material capabilities in Europe and China to include NiResist and
    stainless steel, and has been expanding its stainless steel facility in
    Stratford Ontario which will increase capacity more than four times
    relative to current capacity. All projects are on track and on budget
    and will position the Company to continue its diversification into
    higher temperature alloys and new higher growth products.

--  2011 has been a year of launching a significant number of new customer
    programs and of capital investment. The Company believes the long-term
    effect of these activities, supporting the Company's continued growth,
    will be very positive.


The Company's 2011 consolidated financial statements, Management's Discussion and Analysis and Annual Information form will be available March 30, 2012 online at SEDAR, www.sedar.com.
About Wescast
Wescast Industries Inc. is a global automotive parts supplier that primarily designs, engineers, casts, machines and assembles high quality engineered exhaust system components, including exhaust manifolds, turbocharger housings and integrated turbomanifolds, as well as various other components for the car and light truck markets. The Company supplies to a diversified group of global original equipment manufacturers ("OEMs") and Tier 1 customers in North America, Europe, Asia, Africa, South America and Australia. The Company employs approximately 2,000 people in its regionally-based operations and sales and design centres in Canada, the United States, Hungary, China, Germany, Japan, the United Kingdom and France.
Learn more at www.wescast.com.
Forward Looking Statements
The contents of this news release contain statements which, to the extent that they are not recitations of historical fact, may constitute forward-looking statements based on certain assumptions. Forward-looking statements are provided for the purpose of providing information about management's current expectations and plans relating to the future. Persons reading this news release are cautioned that such information may not be appropriate for other purposes. Such forward-looking statements may include financial and other projections as well as statements regarding Wescast's future plans, objectives or performance for the current period and subsequent periods and regarding the markets for our products. The words "may", "would", "could", "will", "likely", "expect", "anticipate", "estimate", "intend", "plan", "forecast", "project" and "believe" or other similar words and phrases (including negative variations) are intended to identify forward-looking statements. Persons reading this news release are cautioned that such statements are only predictions, and that Wescast's actual future results or performance may be materially different.
This information is based upon certain material factors or assumptions that were applied in drawing a conclusion or making a forecast or projection as reflected in the forward-looking statements, including our perception of historical trends, current conditions and expected future developments as well as other factors we believe are appropriate in the circumstances.
Such forward-looking statements involve known and unknown risks, uncertainties and other factors which may cause actual results to differ materially from those expressed or implied by such forward-looking statements. These risks and uncertainties principally relate to the risks associated with the automotive industry and include, but are not limited to: the result of Wescast's strategic alternative review and consummation of any transaction, our operating and/or financial performance, including the effect of new accounting standards on our reported financial results, fluctuations in interest rates, changes in consumer and business confidence levels, consumers' personal debt levels, vehicle prices, the extent and nature of purchasing or leasing incentive campaigns offered by automotive manufacturers, environmental emission regulations, fuel prices and availability, the continuation and extent of outsourcing by automotive manufacturers, changes in raw material and other input costs, our ability to continue to meet customer specifications relating to product performance, cost, quality, delivery and service, industry cyclicality or seasonality, trade and/or labour issues or disruptions, customer pricing pressures, pricing concessions and cost absorptions, actual levels of program production volumes by our customers compared to original expectations, including program cancellations or delays, dependence on certain engine programs and the market success and consumer acceptance of the vehicles into which such powertrain products are installed, our relationship with and dependence on certain customers, currency exposure, failures in implementing Wescast's strategy, technological developments by Wescast's competitors and customers, government and regulatory policies and changes in the competitive environment in which Wescast operates.
Wescast does not undertake any obligation to update or release any revisions to these forward-looking statements to reflect events or circumstances after the date of this news release or to reflect the occurrence of unanticipated events, except as required by law.
Contacts:
Wescast Industries Inc.
Teresa Fortney
Chief Financial Officer
(519) 750-0000
www.wescast.com