March Madness at the Office - Good for Productivity?
Posted on March 19, 2012 at 14:21 PM EDT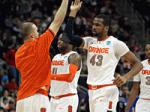 March Madness can be the bane of an employer's existence as employees research their brackets and sneak scores at work in between spreadsheets. But if you're a boss, think twice before you go making a big crackdown: The madness could actually be good for productivity!