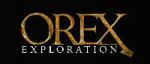 MONTREAL, CANADA -- (Marketwire) -- 01/13/12 -- OREX EXPLORATION INC. (TSX VENTURE: OX)(FRANKFURT: O5D) is pleased to welcome Will Felderhof to its board of directors. At its Annual and Special Meeting of Shareholders, which took place on December 20, 2011, shareholders approved the proposed slate of directors, which included Mr. Felderhof, as well as Mark Billings, Jacques Levesque, Michael Dehn, Louis Lapointe and Claude Poulin.
Following the Board of directors meeting which followed immediately the Annual and Special Meeting of shareholders;


1.  Mark Billings was named president and CEO and Jacques Levesque as Chief
    Financial Officer (CFO) of Orex;
2.  Mark Billings, Louis Lapointe and Claude Poulin were appointed as
    members of the Audit Committee; and
3.  Orex granted 200,000 stock options to Will Felderhof upon his becoming a
    director of the Company, at an exercise price of $0.10 each and for a
    five years period.


Mark Billings, President and CEO of Orex, commented, "We are pleased with the addition of Will to our board of directors. Will has been active in the mineral resource industry for over 38 years. He was the founder of Acadian Mining Corporation and served as director, president and CEO from March 2003 to February 2010. Will is also a member and a past president of The Mining Society of Nova Scotia. His background, experience and contacts in the Nova Scotia mining community will be of great help to Orex as we move ahead with our Goldboro Gold Project. We would also like to thank David Hatchette for his service over the past years as a director of Orex."
All the other motions presented at the Annual and Special Meeting of shareholders held on December 20, 2011 were approved, as introduced:


--  Modification of the Articles of the Corporation in order to allow the
    Corporation:

i.  to hold shareholder meetings at a place outside of the Province of
    Quebec, and
ii. to appoint one (1) or more directors, who shall hold office for a term
    expiring no later than the close of the annual meeting of shareholders
    following their appointment, but the total number of directors so
    appointed may not exceed one-third of the number of directors elected at
    the annual meeting of shareholders preceding their appointment.

--  By-Laws Replacing the General By-Laws of the Corporation in order to
    ensure a compliant transition to the provisions of the Business
    Corporations Act (Quebec) who came into force on February 14, 2011.

--  Reconfirmation of the Shareholder Rights Plan of the Corporation which
    was initially adopted in December, 2008. To remain in force, the Rights
    Plan had to be reconfirmed by the shareholders at the third annual
    meeting following the meeting at which it was initially confirmed.

--  Amendment to the Corporation' Stock Option Plan, subject to approval of
    the TSX Venture Exchange, in order:

i.  to extend to 12 months the maximum delay to exercise an option when a
    person ceases to be a participant under the Plan, and
ii. to apply equally this modification to the stock options previously
    granted under the Plan and still valid as at December 20, 2011.


About Orex Exploration Inc.
Orex Exploration Inc. is a Canadian-based junior resource and exploration company trading under the symbol OX on the TSX Venture Exchange and O5D on the Frankfurt Stock Exchange. The Company holds a 100% interest in the Goldboro Gold Project in Nova Scotia.
Neither the TSX Venture Exchange nor its regulation services provider (as that term is defined in the policies of the TSX Venture Exchange) accepts responsibility for the adequacy or accuracy of this news release. The statements made in this news release that are not historical facts are "forward-looking statements" and readers are cautioned that any such statements are not guarantees of future performance, and that actual developments or results, may vary materially from those in these "forward-looking" statements.