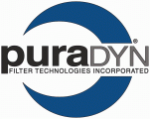 BOYNTON BEACH, FL -- (Marketwire) -- 10/26/11 -- Puradyn Filter Technologies Incorporated (OTCBB: PFTI) today announced that a new audio interview with Puradyn Chairman and Chief Executive Officer Joseph V. Vittoria is now available.
The interview can be heard at: ChartPoppers.com/ireports
Puradyn designs and manufactures the puraDYN® bypass oil filtration system, which acts like a dialysis machine for large engines, filtering out both solid and liquid contaminants. It does this by diverting 6-8 gallons per hour, passing through the bypass filter.
As a result, the engine is running on continuously clean oil and any oil additives depleted during the normal course of operating are slowly added back to the oil during the cleaning process through use of a patented time-released additive package.
The product conserves oil and saves money for customers by allowing engine or hydraulic oil to remain continuously clean and, in the case of engine oil, having additives replenished, resulting in safely extending the life of oil for relatively long periods of time.
In the interview, Chairman Vittoria stated, "One recent customer, an oil pipeline operator of large engine power compressors, has been able to extend their overhaul interval up to 10,000 hours or by 25%, which is significant as these large engines can cost upward of $50,000 per engine for an overhaul. This customer has also been able to extend oil drains from 500 to 2,600 hours, so they're saving oil (and money) at the same time."
Chairman Vittoria continued, "We're very excited about our relationship (as a supplier) with John Deere, a respected name in the engine and product categories. For us to be named as a John Deere supplier gives us a great deal of credibility.
"Also, we were very timely in applying for a recently granted patent three years ago in that we jumped ahead of other filter patent applicants who are looking to combine the standard full-flow filter with a bypass filter. We are working with OEMs to use technology from this new patent to create a first-fit/non-retrofit product."
To listen to the entire interview visit: http://www.chartpoppers.com/ireports or visit www.puradyn.com
About Puradyn Filter Technologies Incorporated
Puradyn (OTCBB: PFTI) designs, manufactures and markets the puraDYN® Oil Filtration System, the most effective bypass oil filtration product on the market today. It continuously cleans lubricating oil and maintains oil viscosity to safely and significantly extend oil change intervals and engine life. Effective for internal combustion engines, transmissions and hydraulic applications, the Company's patented and proprietary system is a cost-effective and energy-conscious solution targeting an annual $15 billion potential industry. puraDYN® equipment was selected as the manufacturer used by the US Department of Energy in a three-year evaluation to research and analyze the performance, benefits and cost analysis of bypass oil filtration technology.
STATEMENTS IN THIS PRESS RELEASE WHICH ARE NOT HISTORICAL DATA ARE FORWARD-LOOKING STATEMENTS WHICH INVOLVE KNOWN AND UNKNOWN RISKS, UNCERTAINTIES OR OTHER FACTORS NOT UNDER THE COMPANY'S CONTROL, INCLUDING BUT NOT LIMITED TO THE POSSIBLE INABILITY TO RAISE CAPITAL FUNDS, LACK OF PROTECTION FROM INTELLECTUAL PROPERTY, VULNERABILITY BECAUSE OF MANUFACTURING A LIMITED NUMBER OF PRODUCTS, DEPENDENCE ON DISTRIBUTORS, ORDERS PREVIOUSLY STATED IN THIS PRESS RELEASE MAY NOT MATERIALIZE, PRESENT SALES MAY NOT BE INDICATIVE OF FUTURE SALES, AND THE POSSIBILITY THAT THE PRODUCTS DO NOT MEET CUSTOMERS' NEEDS, WHICH MAY CAUSE ACTUAL RESULTS, PERFORMANCE OR ACHIEVEMENTS OF THE COMPANY TO BE MATERIALLY DIFFERENT FROM THE RESULTS, PERFORMANCE OR OTHER EXPECTATIONS IMPLIED BY THESE FORWARD-LOOKING STATEMENTS. THESE FACTORS INCLUDE, BUT ARE NOT LIMITED TO, THOSE DETAILED IN THE COMPANY'S PERIODIC FILINGS WITH THE SECURITIES AND EXCHANGE COMMISSION.
About ChartPoppers.com
ChartPoppers.com is a small-cap research and investment commentary provider. ChartPoppers.com strives to provide a balanced view of many promising small-cap companies that would otherwise fall under the radar of the typical Wall Street investor. We provide investors with an excellent first step in their research and due diligence by providing daily trading ideas, and consolidating the public information available on them. For more information on ChartPoppers, please visit: http://ChartPoppers.com
CHARTPOPPERS.COM DISCLOSURE
CHARTPOPPERS.COM IS NOT A REGISTERED INVESTMENT ADVISOR AND NOTHING CONTAINED IN ANY MATERIALS SHOULD BE CONSTRUED AS A RECOMMENDATION TO BUY OR SELL ANY SECURITIES. CHARTPOPPERS.COM IS A WEB SITE WHOLLY OWNED BY SEO FREISIN, INC. CHARTPOPPERS.COM NOR ITS AFFILIATES HAVE A BENEFICIAL INTEREST IN THE MENTIONED COMPANY; NOR HAVE THEY RECEIVED COMPENSATION OF ANY KIND FOR ANY OF THE COMPANIES LISTED IN THIS COMMUNICATION. PLEASE READ OUR REPORT AND VISIT OUR WEB SITE, CHARTPOPPERS.COM, FOR COMPLETE RISKS AND DISCLOSURES.