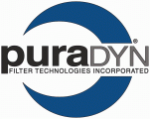 BOYNTON BEACH, FL -- (Marketwire) -- 09/26/11 -- Puradyn Filter Technologies Incorporated (OTCBB: PFTI) announced today it has been selected to supply its engine bypass oil filtration systems to John Deere for the Company's Construction and Forestry products.
Puradyn designs and manufactures the puraDYN® oil filtration system, a high efficiency bypass oil filtration system for all types and sizes of engines to maintain engine oil cleanliness and chemical balance.
Kevin G. Kroger, President and Chief Operating Officer, Puradyn, stated, "Approximately five years ago, we began working with the Construction & Forestry Division as part of a program to help reduce customers' operating cost through condition-based maintenance. The resultant success of this program was the beginning of our relationship.
"Continued pressure of higher oil prices is forcing companies to look for alternatives to help reduce operating costs. Puradyn's bypass oil filtration for engines is a valuable solution that continues to demonstrate its cost savings effectiveness everyday in a multitude of industries. With its micro-fine filtration technology, which removes solid contaminants to below one micron, removes water, and replenishes the base additives and viscosity enhancer, the puraDYN system allows equipment owners to operate machines on continuously clean oil, reducing operating and repair cost while keeping the equipment functioning at peak performance."
Kroger concluded, "Puradyn is honored and proud to join John Deere's family of suppliers."
For more information on puraDYN bypass oil filtration, go to www.puradyn.com.
About Puradyn Filter Technologies Incorporated
Puradyn (OTCBB: PFTI) designs, manufactures and markets the puraDYN® Oil Filtration System, the most effective bypass oil filtration product on the market today. It continuously cleans lubricating oil and maintains oil viscosity to safely and significantly extend oil change intervals and engine life. Effective for internal combustion engines, transmissions and hydraulic applications, the Company's patented and proprietary system is a cost-effective and energy-conscious solution targeting an annual $15 billion potential industry. puraDYN® equipment was selected as the manufacturer used by the US Department of Energy in a three-year evaluation to research and analyze the performance, benefits and cost analysis of bypass oil filtration technology.
About Monarch Communications
Monarch Communications provides public and private companies with results-driven, strategic public relations designed to help raise each company's profile among its target audiences, including investors, consumers and industry. We excel at leveraging our media relations skills and understanding of business to secure placements for our clients in key media outlets.
STATEMENTS IN THIS PRESS RELEASE WHICH ARE NOT HISTORICAL DATA ARE FORWARD-LOOKING STATEMENTS WHICH INVOLVE KNOWN AND UNKNOWN RISKS, UNCERTAINTIES OR OTHER FACTORS NOT UNDER THE COMPANY'S CONTROL, INCLUDING BUT NOT LIMITED TO THE POSSIBLE INABILITY TO RAISE CAPITAL FUNDS, LACK OF PROTECTION FROM INTELLECTUAL PROPERTY, VULNERABILITY BECAUSE OF MANUFACTURING A LIMITED NUMBER OF PRODUCTS, DEPENDENCE ON DISTRIBUTORS, ORDERS PREVIOUSLY STATED IN THIS PRESS RELEASE MAY NOT MATERIALIZE, PRESENT SALES MAY NOT BE INDICATIVE OF FUTURE SALES, AND THE POSSIBILITY THAT THE PRODUCTS DO NOT MEET CUSTOMERS' NEEDS, WHICH MAY CAUSE ACTUAL RESULTS, PERFORMANCE OR ACHIEVEMENTS OF THE COMPANY TO BE MATERIALLY DIFFERENT FROM THE RESULTS, PERFORMANCE OR OTHER EXPECTATIONS IMPLIED BY THESE FORWARD-LOOKING STATEMENTS. THESE FACTORS INCLUDE, BUT ARE NOT LIMITED TO, THOSE DETAILED IN THE COMPANY'S PERIODIC FILINGS WITH THE SECURITIES AND EXCHANGE COMMISSION.
Image Available: http://www2.marketwire.com/mw/frame_mw?attachid=1743472
Image Available: http://www2.marketwire.com/mw/frame_mw?attachid=1743474