Use Aid for EU Governments to Boost Banks as Well?
Posted on August 19, 2011 at 02:08 AM EDT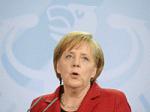 A viewer tweeted me last week (@louisabojesen) saying "Don't phone lines exist between Berlin and Paris? Why was the face-to-face meeting necessary between French President Nicolas Sarkozy and German Chancellor Angela Merkel?"